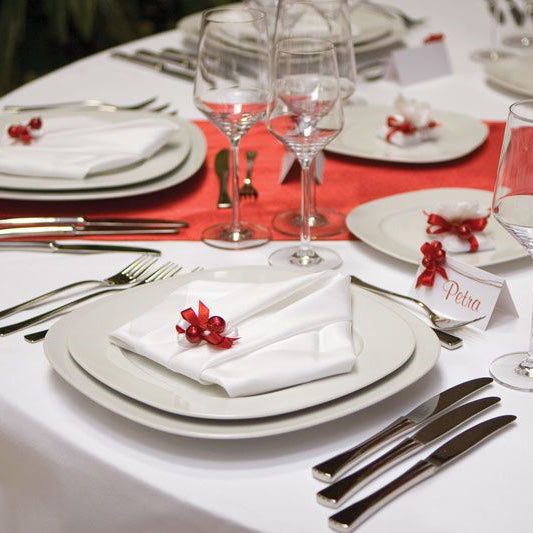 What are the major classifications of tableware?
Tableware is often referred to as dinnerware or dishes that serve the purpose of setting up the table, displaying, and serving the food. It includes various items, such as bowls and plates, serving dishes, cutlery, and glassware that work as decorative items and sometimes serve practical functions. Tableware can differ in quality and nature depending upon which occasion it is being used for and which culture or religion is using it to serve which cuisine.
A table setting, or place setting, is an arrangement of tableware for each separate dining on the table and decorating the table according to the occasion it is serving. Table settings are dynamic and can be changed by the different placement of tableware according to the people's preferences. From parties to regular dining, tableware accents every occasion and brings a visual appeal to the food at every table. They are efficient in serving numerous purposes, from simple satisfaction of hunger to a demonstration of wealth. The following is a brief description of four broad categories of tableware:
Serveware

Flatware 

Dinnerware 

Glassware 
Serveware 
As suggested by the name, serving ware is responsible for bringing food to the table and serving it to the diners seated. It boosts the visual aspects of the table, and one's choice of serving ware can typically signify their taste and knowledge. They are a great way to demonstrate wealth, as they cast a lasting effect on the eyes of the guests with their charismatic finish and design. Serving ware also serves plenty of practical functions. It is essential for holding food and is a perfect way to introduce food to the table. Given below is a complete list of serving ware:
Serving bowls and platters: crucial for accommodating a massive quantity of food.

Salad bowls: From tossing salads to preparing baking mixes, salad bowls serve various purposes.

Gravy boats: long, narrow jugs that are used to serve gravy.

Soup pots: for making and serving large quantities of soups.

Dessert bowls: a bowl used to serve desserts.

Casseroles: large containers to store and serve a variety of foods.

Teapots: used for serving tea. 

Serving spoons: giant spoons for transferring food from the serving platter or bowl to the dinnerware.

Salt and pepper shakers: smallholders of salt and pepper for diners to add as needed.
Flatware 
Flatware is one of the essential categories of tableware. It includes cutlery items such as forks, knives, and spoons. It is often referred to as silverware as well. The following is a brief description of the items of flatware:
Knives: available in various sizes and, depending upon the sharpness of their blade, they serve a variety of functions. Steak knives, luncheon knives, dessert knives, fish knives, dinner knives, fruit knives, and butter knives are a few categories of knives.

Spoons: they help transfer the food from the plate/bowl to the mouth. Depending on the cuisine and the occasion, spoons can come in the following variety: soupspoon, dessert spoon, sundae spoon, tablespoon, teaspoon, and most importantly, place spoon. 

Forks: Dinner forks, salad forks, seafood forks, and fish forks are examples of forks.
Dinnerware 
It refers to the variety of dishes that serve as individual portions of the meal. Also referred to as chinaware or crockery, it usually involves items such as primary bowls and plates with an ornamented finish, giving it a touch of lavishness or even minimalism. The meal course decides if the small, quarter or large plates and bowls will be used. They are available in various forms, such as earthware, stoneware, porcelain, glass, or melamine. 
Glassware 
It is usually a utensil that can accommodate drinks or liquids for individual use. It includes items such as mugs, cups, and glasses. Available in different shapes and sizes, a specific glass is chosen depending upon the occasion and cuisine. The category of glasses can be further distributed into:
Stemware: As the name suggests, this category includes glasses with stems, such as wine glasses, brandy glasses, martini glasses, champagne flutes, champagne saucers, champagne coupes, cordial glasses, and sherry glasses.

Tumblers: refers to glasses with a flat bottom as a base. They include shot glasses, whiskey tumblers, tall glasses, Collins glasses, water glasses, and beer glasses.
Check out complete range of Tableware Products: https://shriandsam.com/collections/tableware