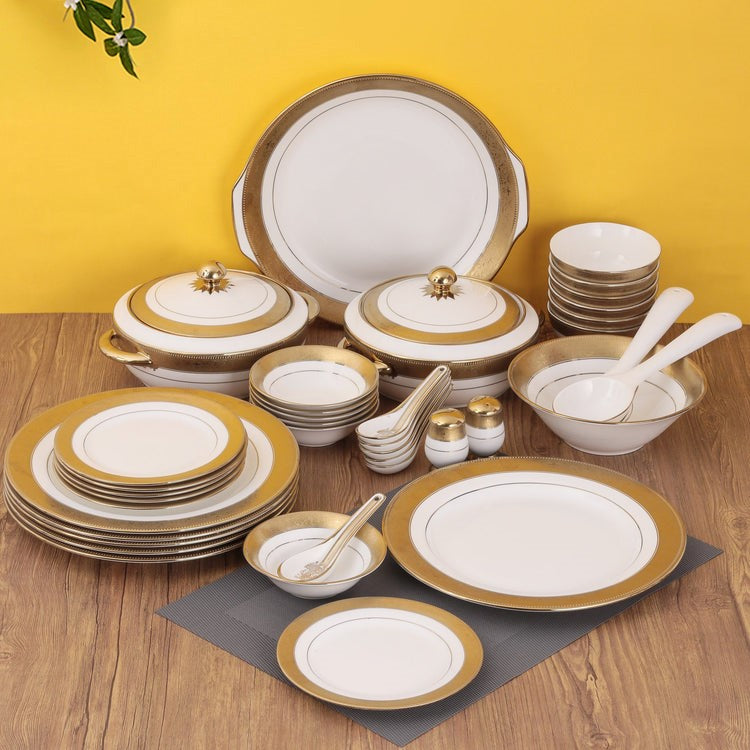 Make A Remark On Guests With These Dinner Sets
The dinner set you use to serve food is influenced by your style sense, food choices, and preferences. If you are the one who feels pride in entertaining family and friends, an elegant dinner set that has a full plate, a quarter plate, and a vegetable bow is a suitable choice for you. Apart from these main items, the dinner set has a soup bowl, soup spoons, dessert bowls, serving plates, silverware, glasses, and other add-ons.
So, what are you waiting for? Leave a mark on your guest with your dinner set. 
1. Shri And Sam - Stainless Steel 64 PCS Dinner Set (6 People) with Gold PVD Coating Signature Matt
Made by Shri and Sam, this 64 PCS Stainless Steel Dinner Set looks great in your kitchen and dining table and helps you live a healthier lifestyle. This dinner set comprises food-grade stainless steel, which gives it a much longer life than typical aluminium items. This also means there is no food contamination, and the food can be kept and served in the same containers. Furthermore, this dinner set is space-efficient and easily fits your kitchen. Excellent for helping and storing, this dinner set is value for money and a great option because it is sophisticated enough to be fashionable.
Click on the link to buy the product: https://shriandsam.com/products/stainless-steel-64-pcs-dinner-set-6-people-with-gold-pvd-coating-signature-matt
2. Gibson Soho Lounge Dinnerware Set
Gibson is a market-leading manufacturer of housewares and it produces beautiful and long-lasting items. This 16-piece dinnerware set by Gibson includes everything you need. From dinner plates to salad or dessert plates to cereal bowls and ounce cups. Available in various hues, including grey, red, green, and teal, these tableware sets are manufactured using a double reactive glazing method that fuses colors to create a finished product with exceptional vibrancy and quality. Because of this, you can use these plates in the microwave and wash them in a dishwasher. 
3. Euro Ceramica White Essential Dinnerware Set
White color, whether in dishes or clothing, complement almost any decor. Furthermore, they allow your cuisine to take center stage, and they enable colors of your food and other add-ons to stand out for a one-of-a-kind display. Euro Ceramica's 16-piece set serves four people and includes dinner plates, salad plates, cereal bowls, and shallow soup bowls. The set is made of porcelain chip-resistant material and is oven-safe at temperatures up to 450 degrees Fahrenheit.
4. Wayfair Basics Porcelain Dinnerware Set
If you're looking for high-quality porcelain dinnerware, this 16-piece Wayfair set with dinner plates, salad plates, bowls, and mugs for four people is the best choice. Each piece is crafted with precision and is made of scratch-resistant porcelain with a glossy finish. 
Porcelain is a popular material for tableware because it appears light and delicate yet is quite durable. These plates are dishwasher and microwave safe.
5. Sango Sierra Painter's Palette Dinnerware Set
Stoneware is another popular tableware material; often a little thicker than other alternatives, it has a less elegant appearance than porcelain. However, stoneware is incredibly robust and heat resistant. A dinner set like this is ideal for individuals with rustic décor, and the collection contains service for four, including dinner plates, salad plates, cereal bowls, and fruit bowls. These plates are dishwasher and microwave safe, stackable, BPA-free.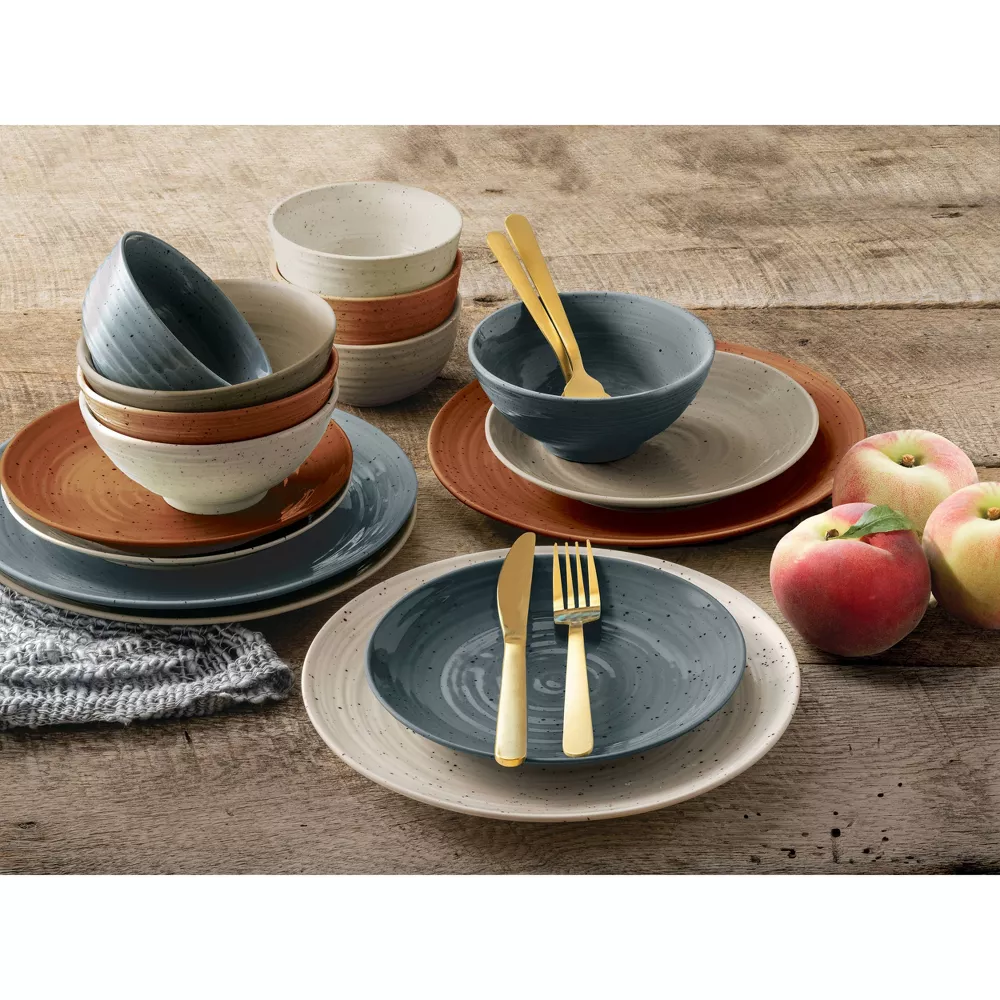 These are the top 5 dinner sets that you can decorate your kitchen with. You can have them all or pick one from them; the choice is yours. However, if you are looking for a durable, chipping-free, healthy option, nothing can beat the stainless set made by Shir and Sam.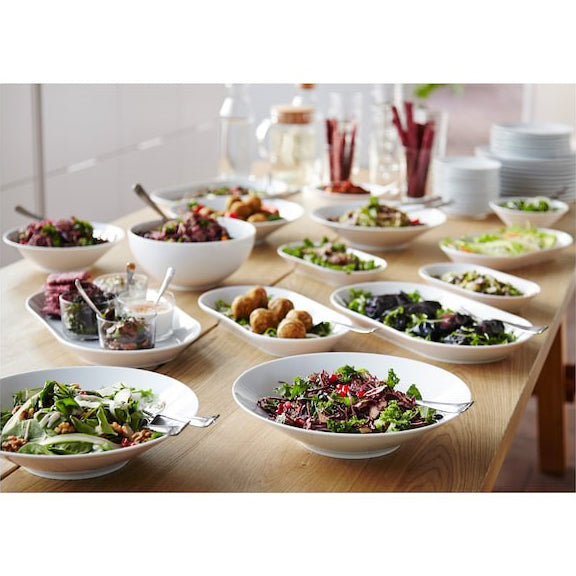 Kitchen Guide
When shopping for best-serving dishes, one should primarily focus on two questions: Is the item appropriate for the intended purpose? Second, does it suit your style? In simple words, serving dishe...
Read more