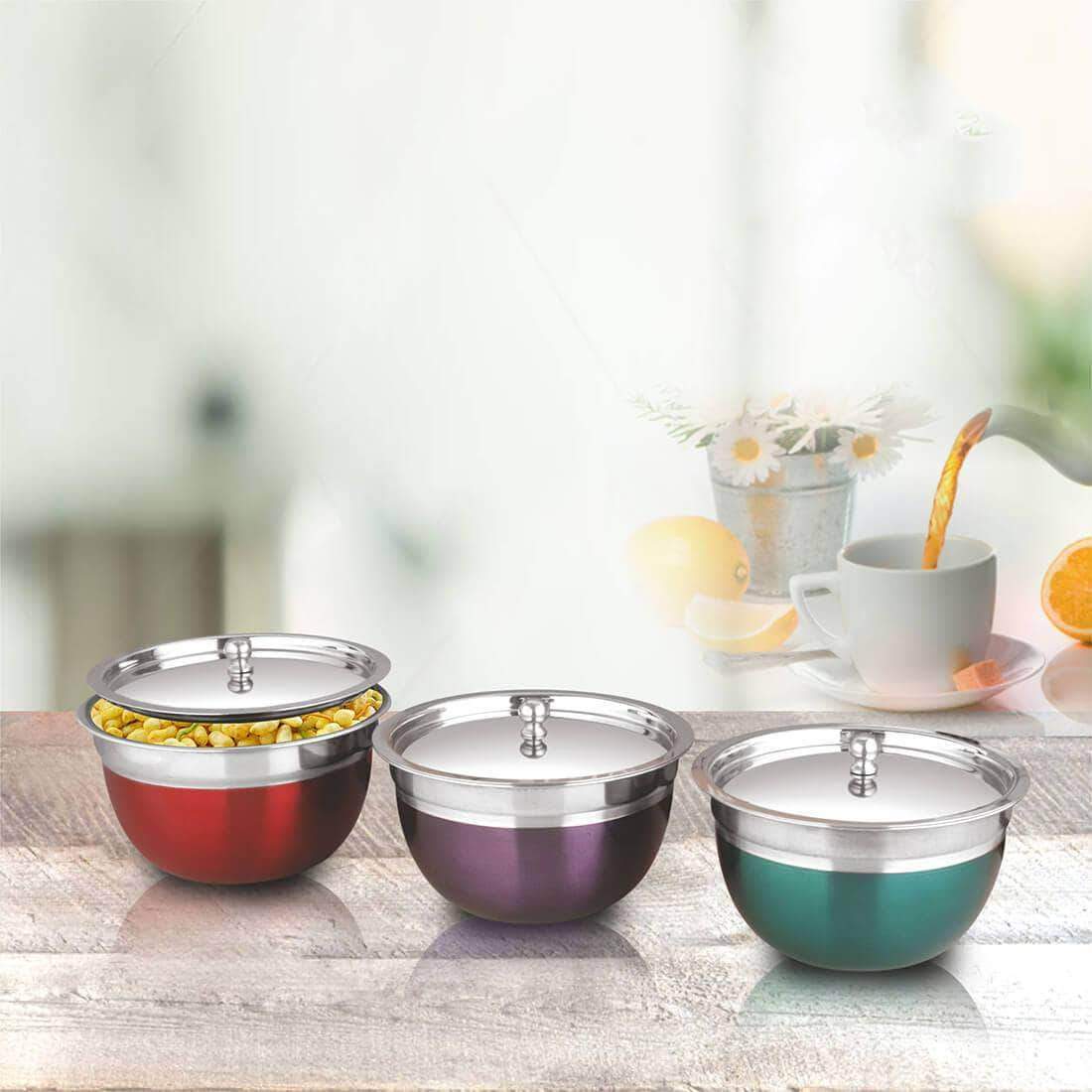 Top 5 Serving Sets
According to chefs and culinary experts, food presentation plays a vital role. The food should taste good, and also, the host must take care to present the food in an organized way before the guests. The serving plates and bowls should give a good impression of the host's taste. So, choosing the correct serving sets is essential.
Here, in this article, we bring the top 5 serving sets for you. 
1) Stainless Steel Serving Bowl Set with SS Lid Miska from Shri and Sam
This Serving Bowl Set has three bowls with lids. They are made of stainless steel and offer a healthy way of serving food. The stainless steel with which these bowls are made is of premium quality. Hence, there is no risk of food contamination if you use these bowls. Each bowl has a classy mirror finish which imparts a good impression of your taste to the guests. You can use it for daily use and on special days too. They are unbreakable and easy to clean and manage.
This set has three bowls of different colors - purple, green, and red. This serving set is durable and anticorrosive.
Buy this Product: https://shriandsam.com/products/serving-bowl-set-with-ss-lid-miska
2) Nitori 26 Piece Snack Set
This snack serving set from Nitori has a unique design. It reflects calm and peace. Blue, white, and ochre colors give the set a soul-touching appearance.
You can serve a variety of snacks using this serving set. These pieces have azure designs and are made of ceramic.
This set comes with 26 spiral-shaped and diamond-shaped plates and bowls with various designs and is elegant and unique.
The Nitori Snack Serving Set is best for serving during a feast or a house party.
3) Stainless Steel Hammered Canister with Tray from Shri and Sam
This serving set has an impressive appearance. All the pieces are made from top-notch quality stainless steel. 
This elegant serving set has three bowls with lids and a tray. Its speciality is that it is made from hand-hammered stainless steel. It is compatible with a dishwasher but not with a microwave oven. 
Buy this Product: https://shriandsam.com/products/stainless-steel-hammered-canister-with-tray
4) Stainless Steel Cook and Serve 3 Pcs Handi Set from Elegante India
Do you want to serve hot soup or gravy to the guests?
Use this serving set from Elegante India to serve your guests. The pieces of this set are made from good quality stainless steel and can be used with an induction oven. It comes with an encapsulated bottom and glass lid. It will enhance the look of the dining table and keep the food warm for a long time.
 It comes with three hands of different sizes and capacities.
5) Stainless Steel Serving Set with Gold PVD Coating Farm House
This set has one serving bowl with a lid and three pudding bowls with a tray. It looks excellent and is a class apart from the regular serving sets. The tray comes with innovative handles. All the pieces of this set have a fine finish. However, you need to take proper care while washing these pieces.
Buy this Product: https://shriandsam.com/products/gold-serving-set-with-pvd-coating-farm-house
Check Out More Serving Sets Options: https://shriandsam.com/collections/serving-sets
Final words
Serving sets play a vital role in setting the mood while having food. Your choice of serving sets should match the setting. The serving sets should be functionally efficient and look aesthetic. Check the site of Shri and Sam https://shriandsam.com/a/s/collections/cutlery for exclusive serving pieces.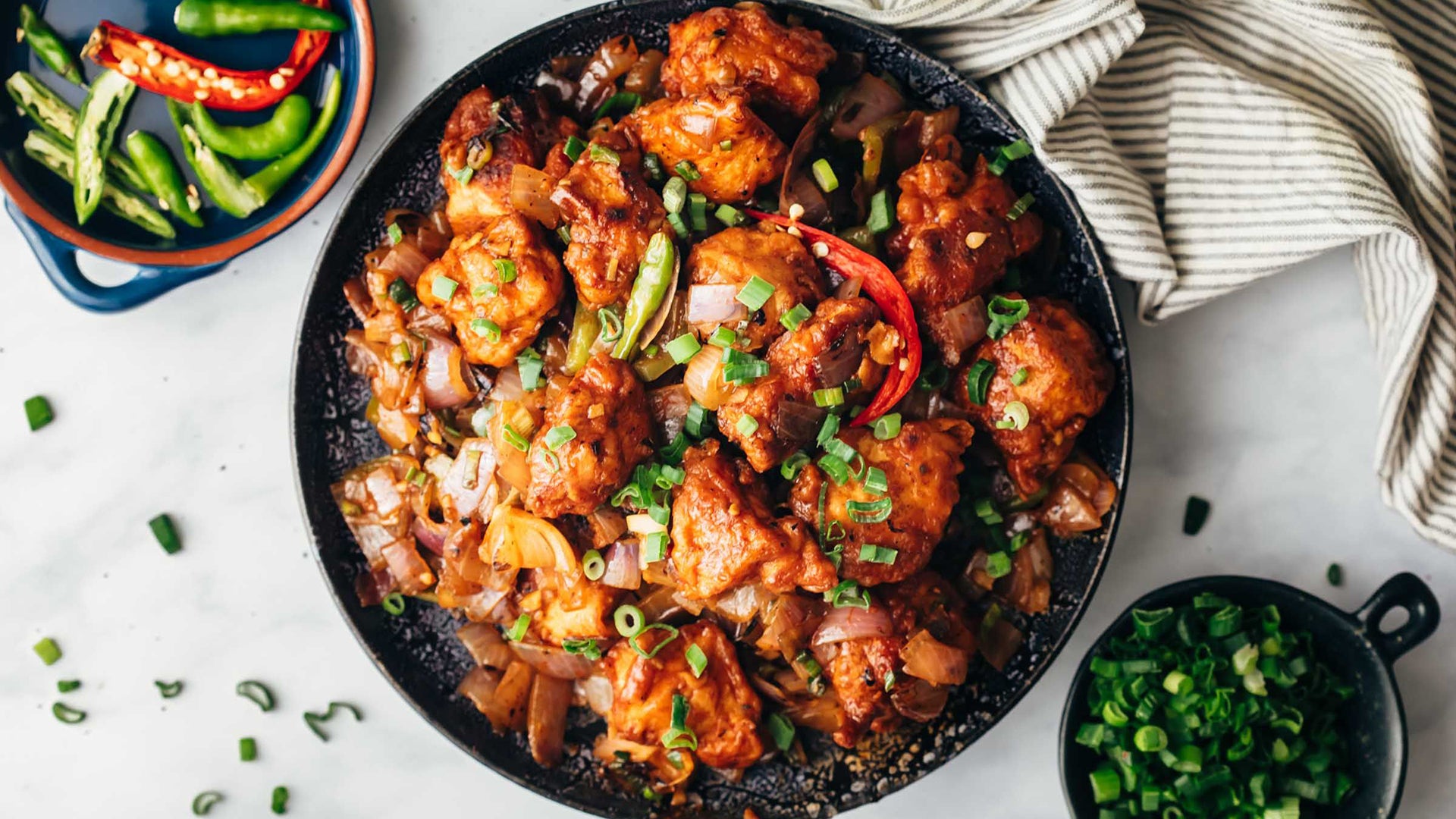 Recipes
One of the most famous Indo Chinese dishes in our country. This one is a dream come true for all paneer lovers. This is a spicy snack, that can be enjoyed with loved ones as a starter.  Course App...
Read more