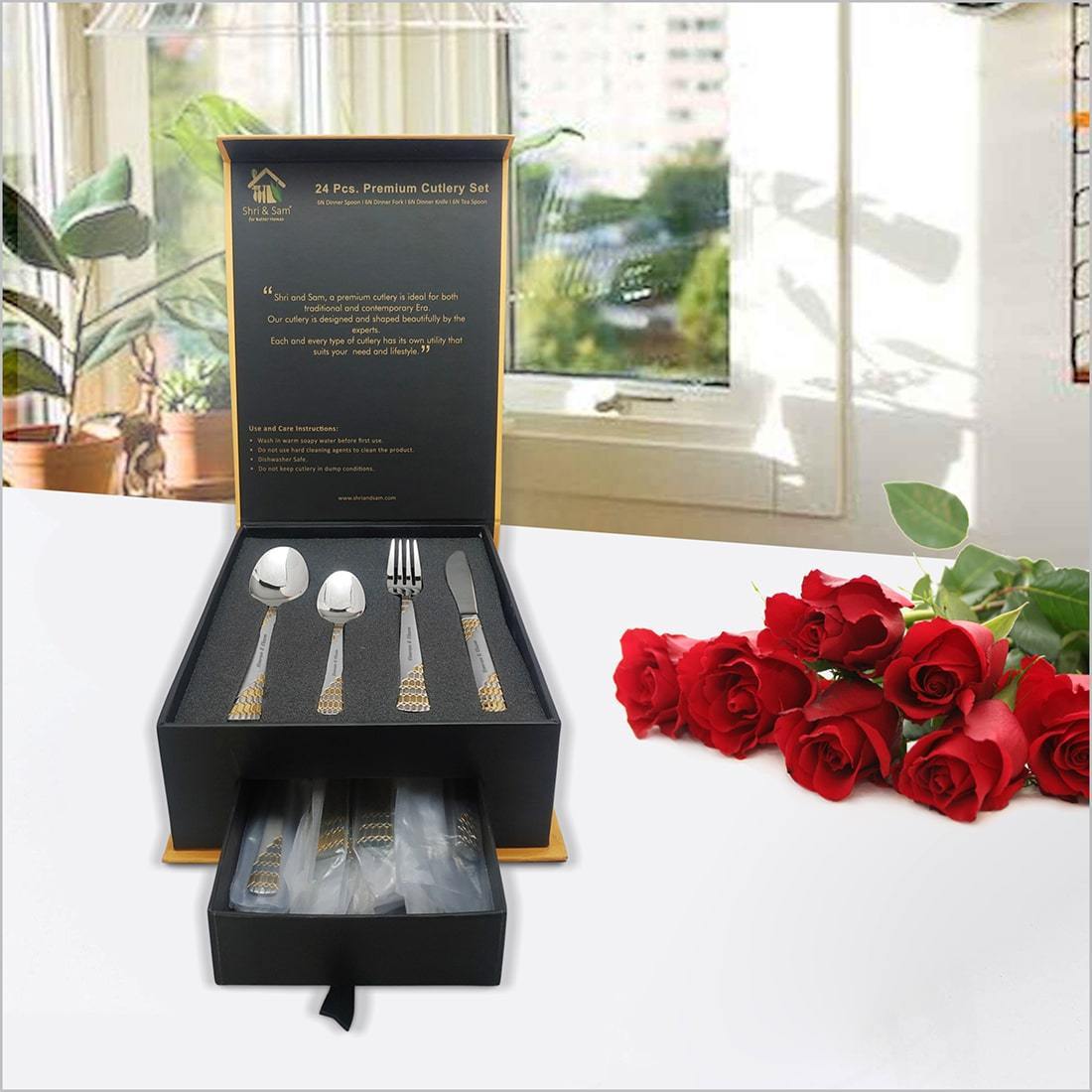 Top 5 Platinum Cutlery Sets For Fine Dining
Fine dining is a class apart from casual dining. It represents the elegance, taste, uniqueness and sophistication of a place. The food at fine dining is often considered high quality and more expensive than casual dining. The fine dining cutlery sets are a symbol of luxury and grandeur. And so does the platinum metal. Platinum is the most precious metal that is often considered more valuable than gold. What if we tell you that there are platinum fine dining cutlery sets available in the market that will make your go boom! If your cutlery set is old and has lost its shine, if you are expecting guests over for dinner or if you are a person of great taste, We have prepared a list of the top 5 fine dining platinum cutlery sets that can make your guests gaze in awe.
Shri and Sam 24 Pcs Titanium Cutlery Set with PVD Coating New Rosemary Hammered
This 24 pcs high-quality cutlery set is elegant and perfect for any fine dining. It includes six teaspoons, six dessert spoons, six dessert forks, and six dessert knives. It has a shiny finish to it that adds to its grace. It is entirely corrosion-less and highly durable. It has the perfect thickness and weight that it doesn't feel heavy to hold. It is straightforward to clean and maintain and, thus, a top choice for every person. Also, it is rust-free and dishwasher friendly. Moreover, once you buy it, you will not need another cutlery set for an extended period as it has 24 pieces.
Buy this Product: https://shriandsam.com/products/24-pcs-titanium-cutlery-set-with-pvd-coating-new-rosemary-hammered
Steel Edge Platinum Rose Gold Cutlery Set of 18 Pcs
It includes six pieces of platinum rose gold dessert spoons, six master spoons, and six pieces of dessert forks. It gives a contemporary feel. Also, It is 100% food grade and well designed, practical cutlery set.
Capital Stainless Steel Platinum Cutlery Set, 24-Pieces
Capital Stainless Steel Platinum Cutlery set includes six teaspoons, six dessert fork spoons, six soup spoons, six serving spoons, and an attractive stand. It is available for sale on Amazon.
Favourite Platinum Stainless Steel Cutlery Set of 24-pieces with a Stand
Favourite Platinum Cutlery Stand includes six pieces each of spoons, forks, teaspoons, and soup spoons. It has a glossy finish and is easy to clean.
Shri and Sam Stainless Steel 24 PCS Cutlery Set with Gold PVD Coating Maccy
If you live alone and want to buy royal cutlery set for yourself or add to any cutlery collection, then Shri and Sam's twenty four piece cutlery set is perfect. You can treat yourself to luxury without burning a hole in your pockets. It includes six snack spoons, dinner spoons, dinner forks, and dinner knives. It has a very gracious design, and it will surely help you eat in style.
Buy this Product: https://shriandsam.com/products/24-pcs-cutlery-set-with-pvd-coating-maccy
Shri and Sam is India's leading premium brand in kitchenware products, tools, accessories, and dinnerware. Their elegant, well-designed, and practical kitchenware products are perfect for gifting and self-use. If you are still confused, I suggest you go directly and visit Shri and Sam's website for a wide variety of beautiful Cutlery sets. Do not think twice about the durability and price. Buy the best products at the best prices from Shri and Sam.
Check Out Complete Cutlery Range: https://shriandsam.com/collections/cutlery