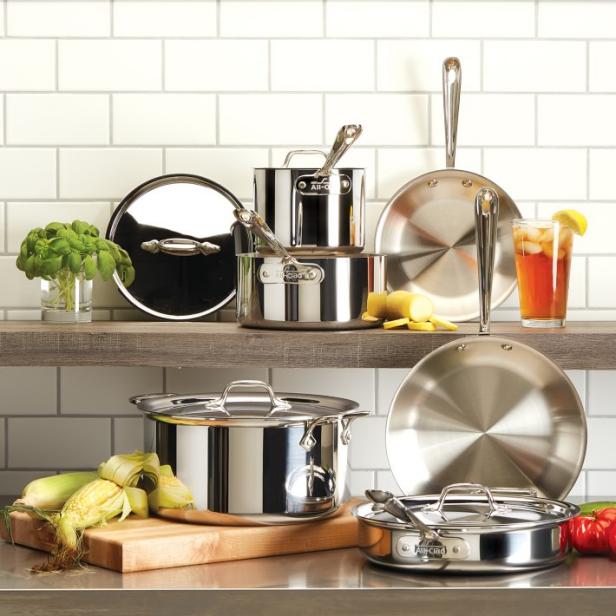 Top 5 Stainless Steel Cookware
Studies have shown that cooking has a therapeutic effect on people. It calms them and makes them feel more capable and happier. Also, it gives a strange sense of satisfaction and nurtures creativity. But if you do not have good quality cookware, it will lead to frustration. Nowadays, several cookware brands are available, which makes the buying process confusing. Good quality cookware products like Kadhai and pans pass on from generation to generation. Here we have jotted down the top 5 stainless steel cookware products available in the market:
Shri and Sam Stainless Steel 4 PCS Heavy Weight Hammered Cookware Set
This hammered cookware set of 4 pieces that includes a hammered Kadhai, a hammered Patila, a hammered Fry Pan, and a hammered Sauce Pan will fulfil almost all your needs for Indian cooking. All four products are built from high-quality stainless steel and have a shiny finish. Their shapes are designed in such a manner to make sure cleaning and maintaining them is very easy. They all are completely food-safe and food-grade. You can buy them from Amazon or the company's official website.
Buy this Product: https://shriandsam.com/products/stainless-steel-4-pcs-heavy-weight-hammered-cookware-set
Vinod's Titanium Triply Stainless Steel Cookware
The Titanium Triply Cookware range by Vinod uses the best of stainless steel and aluminium, which cooks food to perfection. Its three metal construction helps in distributing heat evenly and reduces energy usage. They have a wide variety of Triply cookware products – Titanium Triple Pressure Cookers Outer Lid, Fry Pan, Kadhai with Cover, Sauce Pan with Cover, Tesla, Tope with Cover, etc.
Meyer Presta Stainless Steel Dual Pressure Cooker
Meyer Presta Stainless Steel Pressure Cooker is India's first whistle-free pressure cooker with dual pressure settings. It includes six international features: Visual Pressure Indicator, Auto-Lock, Fusible Safety Plug, Directional Pressure Regulator, Gasket Offset Device, and Secondary Safety Device. It also comes with ten years warranty.
Shri and Sam Stainless Steel Triply Non-Stick Kadhai with Glass Lid Linocut
Shri and Sam have made an innovative cookware product that has all the properties of non-stick and all the benefits of stainless steel. This Kadhai is made from triply stainless steel with a shiny finish from the outside. This Kadhai has an aluminium core for even distribution of heat and a non-toxic coating over it that is non-sticky, making it easy to cook food. It is a one-time investment because this Kadhai is highly durable and will easily last many years. It comes with a guarantee period of 36 months.
Buy this Product: https://shriandsam.com/products/stainless-steel-non-stick-kadhai-with-glass-lid-linocut-triply
Borosil Cookfresh Triply Casserole 
This Borosil stainless steel cookware has a tri-ply body, stainless steel lid, and silicone handle. The tri-ply body heats quickly and distributes heat evenly, resulting in a perfectly cooked meal every time. Its thick body also makes the vessel more durable. It comes in two capacities and has a five-year warranty against manufacturing defects.
One of the topmost and leading manufacturers and exporters of stainless steel cookware products, Shri and Sam have very innovative, durable, and practical effects. Since its inception, Shri and Sam have emerged as leaders in breakthrough innovation with stainless steel products. Visit www.shriandsam.com and check a wide variety of kitchenware products.
Check out Complete Range of Cookware: https://shriandsam.com/collections/cookware