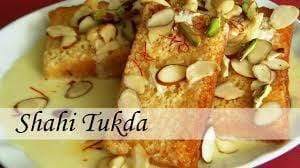 Shahi Tukda
Recipe Servings: 2

Prep Time: 30 Minutes

Cook Time: 25 Minutes


Total Cook Time: 55 Minutes


Difficulty Level: Easy

Earlier India was called the land of milk and honey by its visitors. This one is a saffron infused shahi tukda from awadh.
Ingredients
10-15 almonds

10-15 green unsalted pistachio

4 slices of bread

Oil

500 ml of milk

1 Tsp green cardamom powder

5 Tbsp sugar

1 gm saffron

3 Tsp screw pine (kewda) water

6-7 pieces candied ginger
How to

Take the almonds and put them in boiling water to peel them easily. Then rinse them under cold water. After that slice the almonds thinly and repeat the process with pistachios.

7 Pcs Gadget Set


Using a cutter, cut the bread into pieces. Try and cut out equal number of pieces. Then take a frying pan and put it on medium flame with oil in it. Then start adding bread pieces in the pan and fry them.

Cutter


Rockline Frying Pan


Now take a sauce pan and add some milk in it. Then add sugar, cardamom powder and saffron in it. Wait till the milk simmers and then gently add the bread in it and then add kewda water. Then remove the bread when it turn soft and let the milk simmer. Make sure you are gentle with the bread because it can break easily.

Sauce Pan With Ring Handle


Then place a few sliced candied ginger on one piece of bread. Then top it off with another bread. When the simmering milk reaches a thick stage, then pour it over the bread.


Then garnish it with silver foil. You can serve it with a sprinkle of almonds and pistachios.

Recipes
Recipe Servings: 10 Prep Time: 05 Minutes Cook Time: 30 Minutes Total Cook Time: 35 Minutes Difficulty Level: Easy This is an instant recipe that is perfect for any kind of ...
Read more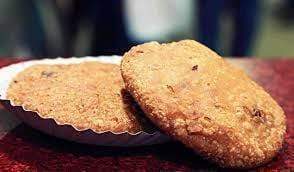 Recipes
Preparation Time: 15 mins  Cooking Time: 27 mins Total Time: 42 mins      Makes: 12 kachoris Ingredients For The Dough  2 cups plain flour (maida)  1/4 cup ghee  Salt according to taste   For The...
Read more