Premium Drinkware Sets
When it comes to glassware, the more large containers — a coupe, a flute, a wineglass — appear to garner all the attention when it comes to glassware. However, a basic water glass that can be used for juice, wine, iced coffee, etc., can be utilized more ways than you think. 
Whether you want a simple, stackable matching set or something more daring to brighten up your dinner table, several options are available. Here we list the premium drinkware set to assist you in your quest. They will put your dining probably the best way you want.
1. Stainless Steel Hammered Mug 
A bar is incomplete without a proper glass. But does it mean the glass should always be glass? Probably not. With things changing, you need to change your outlook. Add these stainless steel hammered mugs with a golden handle from Shri and Sam to your bar tools and make people do wow. 
These stainless steel mugs will look super amazing in hand, and you don't have to worry about them breaking or chipping when drunk. Also, they are sturdy to handle and are odor-free. 
2. Cocktail Glass
A matte black exterior contrasts with a gleaming gold inside for a sophisticated but playful look perfect for fashionable bars and festive gatherings. Serve a classic martini or just any unique drink in this famous glass.
3. Champagne Saucer
This saucer cocktail glass's shallow, wide bowl is complemented with a long, thin stem. It's perfect for serving sparkling champagne, inventive cocktails, and daiquiris.
4. Matte Glasses
With a casual style and the beauty of award-winning fashion, these glasses are a show-stopper; they are attractive and offer your table a contemporary look.
5. Bronze Stripe Glasses
The natural monotone color of this glass distinguishes the Elements collection from standard table settings. It's elegant and honest, providing your table with a contemporary appeal. Its adaptable size makes it popular for almost any event.
6. Duralex Glass Tumblers 
Easy to use, this glass set is available in different sizes. You can use them to serve water, juice, or even a stiffer drink. 
7. Libbey Polaris 16-Piece Tumbler Glasses Set
The all-purpose tumbler set from Libbey checks off several boxes: There are enough glasses to serve 16 people in total, the glasses feel sturdy in your hand, and the curved shape elevates them much beyond their price tag.
Eight 17.75-ounce tumbler glasses and eight 15-ounce rocks glasses are included in this 16-piece set. Both sizes feature a classic design that will not age in a few years. The gently rounded bottom gives the drink a lightweight appearance, but it's weighted, so it's stable. This lead-free set is created in the United States, is inexpensive, dishwasher safe, and may be used in any context.
8. Fferrone Dearborn Glasses
Everyone requires a decent pair of glasses—the ones you pull out for a special occasion. Fferrone is one of the most excellent splurging alternatives, mixing classic elegance with modern craftsmanship. Former architect Felicia Ferrone creates the brand's glasses in Chicago, and while they're American-made, the design pays homage to mid-century Italian design.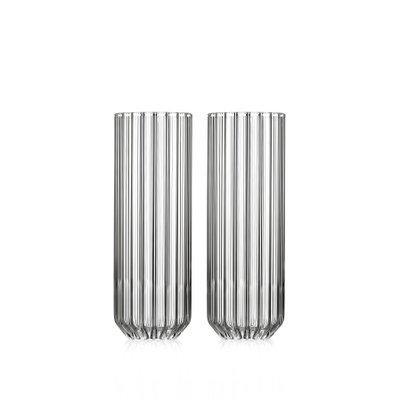 Each is meticulously blown by hand from borosilicate glass without a mold, with fluted sides and a curved bottom that looks stunning placed on a table. It's worth noting that the interior of the lip is similarly fluted. It has a comfortable weight and maintains its temperature. It's slightly challenging to sip from, but it's an easily overlooked design element if you're looking for a high-style glass.
Check out complete range of Drinkware Sets on the link: https://shriandsam.com/collections/drinkware
These are some of the premium drinkware range that you can have in the kitchen or bar to enjoy your drinks.