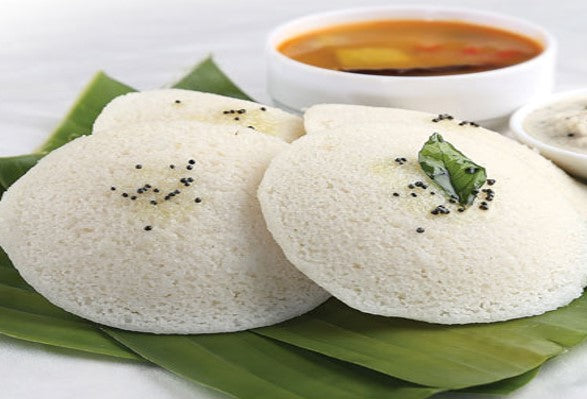 Idli Recipe
Rice Idli recipe & homemade Idli batter

Preparation Time: 5-10 minutes
Cooking Time: 15-20 minutes
Course: Breakfast
Cuisine: Indian
Ingredients
An authentic and traditional south Indian recipe with homemade idli batter using rice and urad lentil. It is a very simple and healthy breakfast that is served with sambar and chutneys.

1 cup white urad dal 

2 cups rice

1 tbsp oil

2 tsp salt
How To
For Batter:
First of all start by washing the rice and dal separately. Now soak them separately as well.

Now drain the rice and add some water to it, now grind them in a mixer. Do this until it becomes a paste.

Now start by draining the dal and add some water to it, then start grinding it, keep adding water to make a fine paste. Make sure that rice paste is coarse while the lentil paste is done fine.


Now mix both the paste and add salt in it. Then keep the batter overnight at a dry place. Batter will become sour overnight.

The entire process takes 24 hours approximately.
To make the idlis:
Start by mixing

 

the batter once. Do this gently, you would not want the air bubbles to go out completely. Then rub some oil on the idli molds.

Now start dropping batter in each mold accordingly. Then add approximately 1 inch deep water in the idli steamer. Now place the idli stand in the steamer and close it. Then steam it on high for about 5 minutes.

Then low the steamer and keep it like that for about another 5 minutes. Then open the steamer and check the idli, if it is done, if not then steam it for about 2-3 minutes more.

Now, take the steamer and take out the idles from each mold. To do that you can either use a knife or a spoon.

Idlis are best served with chutneys and sambar.