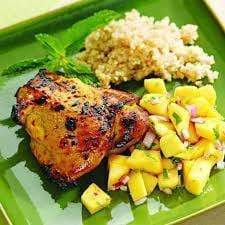 Grilled Chicken with Mango Salad
To cook the chicken you can use a grill tawa on high heat or oven whichever you prefer. This can be served with fragrant brown rice, to make it a perfect healthy meal.
Recipe Servings: 

4

Prep Time: 10 Minutes


Cook Time: 

30 Minutes

Total Cook Time: 45 Minutes


Difficulty Level: Medium

Ingredients
½ cup low-fat plain yogurt

2 tablespoons mango chutney

2 teaspoons garam masala (see Note) or curry powder, mild or hot

4 bone-in chicken thighs, (Almost 2 pounds), skin removed, trimmed of fat

½ teaspoon salt

1 mango, diced

¼ cup finely diced red onion

2 tablespoons finely chopped fresh mint

2 tablespoons red-wine vinegar

2 teaspoons brown sugar


How To
Start by taking a mixing bowl and add yogurt, garam masala in it. Then whisk it well. Once done, then add chicken in it. Then keep aside.

Bowl With Whisk


Start by taking a grill tawa and put it on medium flame with some butter or few drops of oil on it.

Rockline Grill Tawa


Then start adding the chicken on the tawa and grill it for good 8-10 minutes

 

each, on both sides. Then sprinkle some salt on it.


Make sure you grill the chicken until its charred in spots. Then grill the chicken for another 4-5 minutes, to do it properly. Take it off the tawa, once done.

Turner Plain Kitchen Tool


Now take a deep mixing bowl and add mango, onion, vinegar, mint and brown sugar in it. Then mix them well and also add one fourth teaspoon in it.

Deep Mixing Bowl



You can serve the chicken with the mango salad. To make it a complete healthy meal you can serve it with brown rice.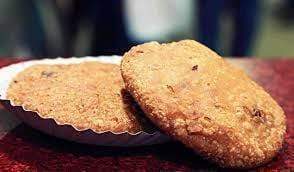 Recipes
Preparation Time: 15 mins  Cooking Time: 27 mins Total Time: 42 mins      Makes: 12 kachoris Ingredients For The Dough  2 cups plain flour (maida)  1/4 cup ghee  Salt according to taste   For The...
Read more
Recipes
Recipe Servings: 4 Prep Time: 20 Minutes Cook Time: 50 Minutes Total Cook Time: 01 Hour 10 Minutes Difficulty Level: Medium   When you talk about starters, kababs are reall...
Read more