Chicken Shami Kebab Recipe
Recipe Servings: 4

Prep Time: 20 Minutes

Cook Time: 50 Minutes

Total Cook Time: 01 Hour 10 Minutes


Difficulty Level: Medium

When you talk about starters, kababs are really famous world wide that are served as appetizers. this is a perfect snack to have in the evenings or for an occasion. this is perfect for a party, it can be served with green chutney or any sauce of your choice. 

Ingredients Of Chicken Shami Kebab
1 Cup Chana Dal

2 tsp Oil

1 tsp Cumin Seeds

7-8 Nos Cloves

7-8 Nos Black Peppercorns

2 Sticks Cinnamon

2 tsp Coriander Seeds

1 tsp Ajwain

3 Nos Red Chilli Whole

1/2 tsp Chilli Flakes

500 Gram Boneless Chicken

1 tsp Salt

1 Cup Water

1 tsp Ginger, finely chopped

2 Nos Green Chilli

2 tsp Garlic, finely chopped

1/2 Cup Coriander Leaves , chopped

1/2 Cup Mint Leaves , chopped

2 Nos Egg
How To: - 
1. Take a bowl and  soak a cup of channa dal for at least 30-40 minutes.


Bowl
2.  Now take a pressure cooker and heat some oil in it on medium flame. Then add cumin seeds, cloves, black peppercorns, coriander seeds, cinnamon, red chili, ajwain and chili flakes. Then sauté it for about 2-3 minutes.


Opus Pressure Cooker
3. Then add the channa dal in the cooker and mix them well.


Ultimate Series Kitchen Tool
4. Then also add the boneless chicken in it and also add salt. Then bring it to medium flame and add the required amount water.
5. Then cook this until all the water is evaporated and check if the chicken is tendered.
6. Then take it off the flame and let it Cool for some time.
Take a mixing bowl and grind all the ingredients to a thick paste.



Anti Skid Mixing/Serving Bowl
7. Then in the paste add green chili, garlic, ginger, coriander leaves and mint leaves. Then mix the ingredients thoroughly.
8. Then add the raw eggs liquid in it and then mix it thoroughly.
9. Then start making the kabab shape by taking the paste in your hand, you can either make round shape or rod shape whichever you prefer. generally, it should be done round and flat.
10. Now dip them in egg fluid and then take a frying pan and put some oil in it, then fry them well until they are golden brown.
11. Your Shami Kababs are ready to be served, you can serve them with green chutney and onions.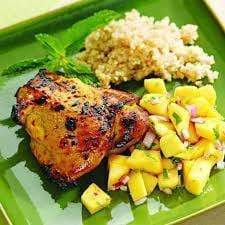 Recipes
Grilled Chicken with Mango Salad
To cook the chicken you can use a grill tawa on high heat or oven whichever you prefer. This can be served with fragrant brown rice, to make it a perfect healthy meal. Recipe Servings: 4 Pre...
Read more
Recipes
Recipe Servings: 2 Prep Time: 10 Minutes Cook Time: 35 Minutes Total Cook Time: 45 Minutes Difficulty Level: Easy This is a delicious easy to make sweet dish made from whole...
Read more