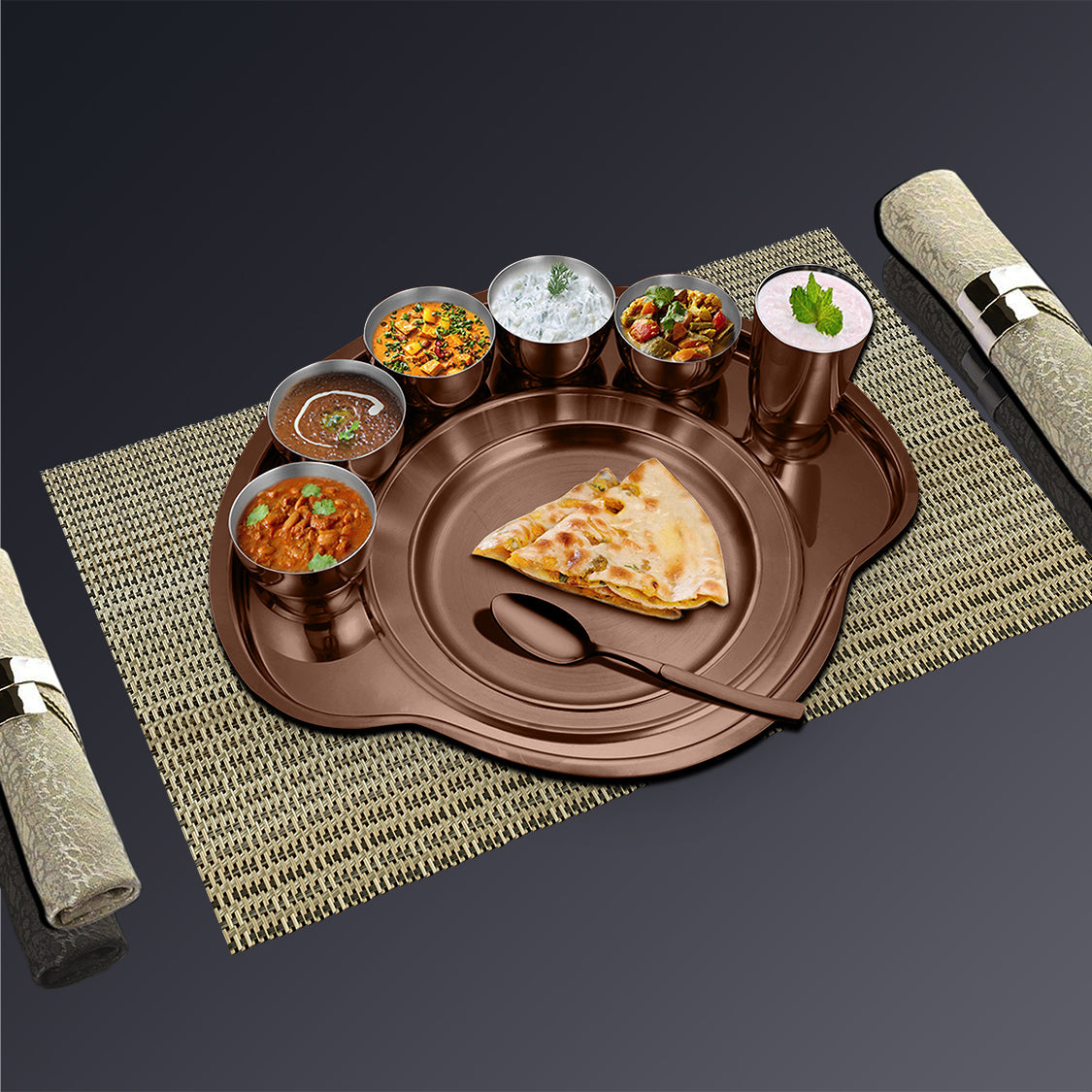 Going back to the roots: 5 Health Benefits Of An Indian Thali
Indian food is healthy when it consists of various dishes made from vegetables, fruits, whole grains, legumes, nuts and seeds in the right proportion. It is also essential to eat in moderation to gain maximum benefits from Indian meals. An Indian Thali meal contains all food items that are perfect for health. Also, there are many other benefits associated with Indian Thali meals which you might not have even heard. So, let's see what science says about this unique form of traditional Indian cuisine.
Rich in Nutrition
Thalis refer to a round platter on which different dishes are placed together to create one wholesome meal. A typical platter consists of rice, bread, vegetables, lentils, beans and desserts. Here are some examples of each food category in an Indian Thali meal:
Rice or Bread (roti/naan)
Typical Indian rice dishes include Chawal (plain rice), Ghee Rice, Pulao, Biryani and Khichdi. Roti can be prepared using wheat flour or other grains like millet and sorghum. Thalis typically feature a staple like pita bread or naan and different paratha made from whole wheat. It is also common to have more than one type of bread on the platter, such as plain naan. Traditional Indian thali is a platter with various dishes lined up on it, and these dishes typically include rice, pickles and curries. The food may or may not be spicy, but one thing for sure is the plateful of deliciousness dripping with health benefits. 
Stomach-filling Benefits
 An ideal meal should fill the stomach without bloating it, and an Indian thali does just this - filling your stomach without working against you. The many dishes act as appetizers, so you don't gorge yourself right off the bat; they also ensure you eat less than you usually would because of their varied tastes. So basically, an Indian thali keeps your stomach full and happy and keeps your food cravings at bay.
A Healthy Diet
Most of the dishes in a thali are healthy and include veggies and other nutritious ingredients. Some examples include - Sarson ka saag and Makai ki roti (these two preparations feature spinach and corn, respectively, containing high nutrients). Daal (lentils) and Eggplant curry (eggplants are good for you because they lower blood cholesterol levels. 
Rich in Flavours
An Indian thali comes in many different flavours. Thanks to this diversity, eating becomes an enjoyable experience rather than a chore that needs completing. It tastes different every time you eat and is still good for your health - That's a win-win situation!
The Best of The Lot
An Indian thali is the best way to try out all sorts of dishes. If they don't appeal to you on their own, perhaps mixed in a single container will bring out new flavours that you might like. A wide range of spices is used when preparing an Indian thali, bringing numerous health benefits. For example: 
Coriander seeds act as diuretics, soothe upset stomachs and promote digestion.

Black pepper stimulates digestive juices and helps prevent constipation.

Cloves have antioxidant properties that help fight viruses and cancers.

Cardamom has been known to relieve nausea - Cinnamon is said to help control cholesterol levels.
Conclusion
The more dishes, the merrier it is. An Indian thali makes sure that you can enjoy food without worrying about the adverse effects of overeating. And it tastes good too! The health benefits of an Indian Thali are multiple, and one must try an Indian thali to taste the delicacy of India, which is all served on one plate.