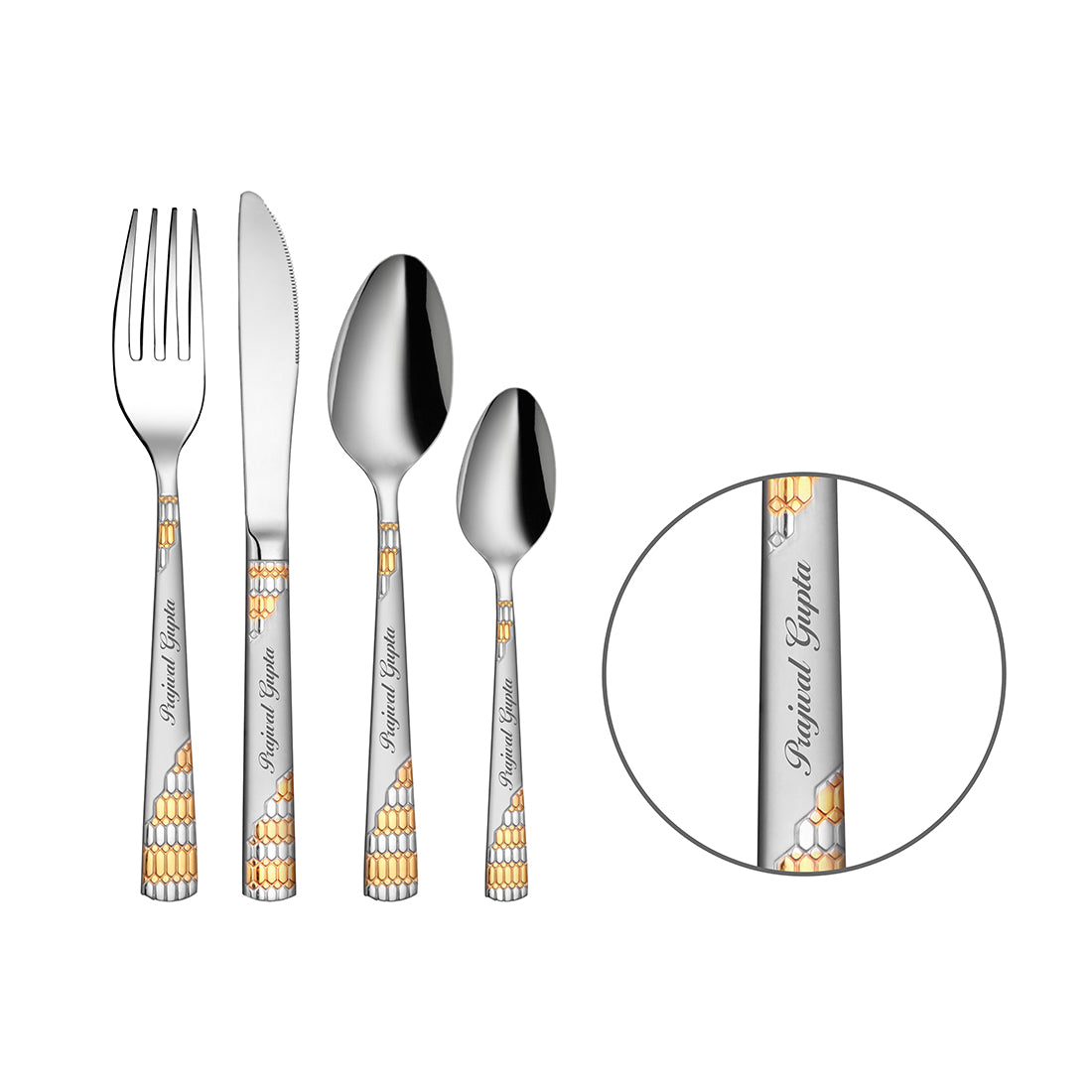 Get Your Cutlery Sets Customized Today
Cutlery refers to any hand item used in the preparation, serving, and, most importantly, food consumption. They are an indispensable part of our lives, and cutlery is used in some form. 
Some people use cutlery to show off their choices, preferences, tastes, while others use it to serve food. Whatever the reason be, cutlery is used in some form or the other. Moreover, people get it customized for gifting purposes, to express love, and other reasons. If you, too, are looking for ways to personalize and customize the cutlery set, you've landed at the right place. We will tell you how to get the personalization done on your cutlery. 
Visit Shri And Sam For Customized Kitchen Sets
Shri and Sam is the one-stop solution for all your customization needs. Here you can not only get the personalization done but can also select from a wide range of dinnerware, serveware, cookware, and more. The company is a leading exporter and offers a seamless fusion of Indian tradition and western transcendent. Though they do personalization, it is only available on pre-paid orders. It does not apply to charges paid for with cash on delivery.
Built on the foundation of sacred principles and global benchmarks, Sri and Sam are entirely devoted to the world of fine dining and cutlery. The company is more than a brand and is a symbolic representation of the father's love. 
The company is a leader in breakthrough innovation with stainless steel and has scaled new heights in customizing stainless steel dinner sets. 
How to get the customization of dinner plates done?
To get the personalization done, you need to provide initials that you want to be etched on every cutlery item. Imagine how lovely would it look to gift someone a personalized gift for a birthday, housewarming, wedding, or another special occasion.
Shri and Sam provide a high-quality, durable, beautiful set of either stainless steel, copper, or any other material. The 24 Piece Cutlery Set is perfect for a party of six, and it includes Dinner Spoon, Snack Spoon, Dinner Fork, Dinner Knife, and Snack Spoon.
Furthermore, a high-quality stainless steel cutlery set features a sandblasting finish that makes it easier to hold. The lower portion of the handle has a matt surface and is embellished with a gold-coloured motif, but the upper section has a mirror shine. The pattern provides something distinctive to the dining experience, and the modern design makes it seem pleasant and attractive. 
When you look for a customized set, Shri and Sam is the name to look forward to. The Lush Cutlery Set is a terrific addition to your house and will help you set a lovely dinner table with great dining implements. This cutlery set's sharp style elevates your eating experience. The location is dishwasher safe and easy to clean, making it a long-lasting product. This Shri and Sam Thali Set is made of high-quality stainless steel that is corrosion-resistant and sturdy. The thali set serves one person. It is ideal for everyday usage because of its excellent quality and easy cleaning and maintenance. Because it is food grade and safe, the thali set is safe. It's a perfect option for everyday usage, and you can customize it to fit the number of people in your household.
Click on the link to check out all the customized sets: https://shriandsam.com/pages/search-results-page?q=customized
Conclusion
The personalized thali set has a stunning design that complements any table setting. This thali features a hand-hammered pattern that makes it a contemporary work of art. The thali set may also be a wonderful present for your loved ones. It may also be a terrific addition to your current tableware collection