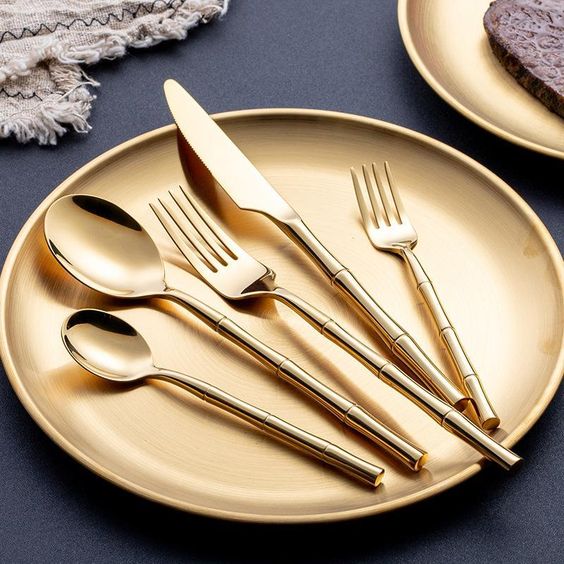 Cutlery to Flaunt Your Kitchen
Cutlery has become an essential tool not only in the kitchen but also at the dining table. People are also fond of decorating their kitchen and dining tables with beautiful cutlery sets. Some people prefer to have different types of cutleries for other purposes. Cutleries also come in different shapes, sizes, designs, and colors. Cutlery sets add a classy or luxurious ambience to the dining table, café, restaurant, hotels, etc., to give a fine dining experience. Cutlery sets need proper maintenance. Using the appropriate Cutlery with the adequate dish saves time. The word looks more presentable.
One should keep certain things in mind before buying a cutlery set.
The cutlery set should be long-lasting.

Cutlery should not corrode easily.

Cutleries should be thick, durable, and comfortable to hold.

Cutleries should be stable and shiny.

They should be dishwasher safe.

Cutleries also have many coatings over stainless steel, like platinum, copper, gold, silver, etc.

Cutleries should be easier to clean and maintain.
The Cutlery comes in various types and styles, like butter knives, salad forks, dinner knives, teaspoons, tablespoons, serving spoons, sugar spoons, serving utensils, dinner spoons, etc. These are the cutlery sets with which you can flaunt your kitchen.
Shri and Sam Cutlery Set - Shri and Sam is a leading manufacturer of cutlery sets. They use premium-quality stainless steel cutlery. The Cutlery is long-lasting, thick, and durable. The cutlery sets have beautifully engraved nylon handles to give your kitchen a comfortable grip and a fantastic look. They manufacture cutlery sets with a PVD coating of gold, silver, copper, or platinum. These cutlery sets can also be used for gifting purposes. Dinner spoon lush, Dinner spoon Lotus-plain, Snack spoon lush, Snack spoon lavish, Snack spoon jewel, Cutlery Set Rose, Dinner fork great, Dinner fork lush, Cutlery Set sunflower, snack spoon Sheffield. Cutlery Set gourmet are some of the names of Shri and Sam's cutlery sets that can make your kitchen stand out.
Amazon basics silverware cutlery set - This set visually appealing and comfortable to hold or grip. This cutlery set is not only lightweight but also durable. This set consists of twenty pieces of flatware: knives, tablespoons, a dinner spoon, a salad fork, a teaspoon, and a dinner fork. The Cutlery is elegant, long-lasting, and shiny.
Lianyu silverware, flatware, and cutlery set - This set is made from stainless steel of superior quality. The cutlery set is not only lightweight but also dishwasher safe, durable, and rust-free. This particular set consists of a dinner fork, a salad fork, a sharp dinner knife, a dinner spoon, and a teaspoon.
Parag Lily Stainless Steel Cutlery Set - This cutlery set is affordable and made from premium-quality stainless steel. The cutlery set has smooth curves and edges and is durable, lightweight, and sturdy. It is also easy to clean and maintain. This Cutlery has a vintage look and gives a comfortable feel and grip for a luxurious dinner.
Conclusion:
If you are planning to buy a cutlery set to give your kitchen a beautiful look, thereby keeping the quality intact, then choose Shri and Sam, as they have a vast collection of cutleries of all types for various purposes at an affordable price. For more information, visit
www.Shriandsam.com
.