Cutlery Buying Guide - Which is Best for your Kitchen
It would help if you had excellent cutlery for your kitchen these days; different cutlery sets serve other purposes. Hence, using various cutlery sets for different purposes saves time and effort. People also decorate their dining tables with cutlery in cafes, restaurants, hotels and even homes to get the feeling of luxury while having dinner or lunch. Cutlery adds the essence of royalty to the dining table. They also come in various designs. The dishes become more presentable with the correct cutlery set and look like an art form. One should buy cutlery sets that are thick, rust or stain proof, durable, shiny and easy to hold or grip. 
The cutlery comes in various types and styles, to name a few - butter knives, salad forks, dinner knives, teaspoons, tablespoons, serving spoons, sugar spoons, serving utensils, dinner spoons, etc. Here is a detailed guide for cutlery sets that can suit your kitchen best; they are:
Shri and Sam Cutlery Set -

Shri and Sam have a vast collection of amazing and unique cutlery sets of countless varieties. The cutleries are made from premium quality stainless steel cutlery which is long-lasting, thick, and durable. The cutlery sets have beautifully engraved nylon handles that add a fantastic look to your dining table, giving a smooth grip or hold. They also manufacture cutlery sets with a PVD coating of gold, silver, copper, and platinum finish, giving them a unique look. Some of the cutlery sets that you can add to your kitchen are Dinner spoon lush, Dinner spoon Lotus- plain, snack spoon lush, snack spoon lavish, snack spoon jewel, cutlery set Rose, and dinner fork lavish, dinner fork lush, cutlery set sunflower, snack spoon Sheffield and cutlery set gourmet.
Amazon Basics Silverware Cutlery Set - This set is no doubt visually appealing. The comfortable hold or grip of this cutlery set makes it feel lightweight. It is also durable. This set comes with twenty pieces of cutleries that include knives, tablespoons, a dinner spoon, a salad fork, a teaspoon, and a dinner fork. The cutlery is not only elegant but also long-lasting and retains its luster for an extended period. Hence it's a great purchase to be kept in your kitchen possessions. 
Cambridge Silversmiths Blossom Sand Flatware Silverware Set -

This cutlery set is sturdy and durable, with a unique sleek design, thereby giving a comfortable grip. It is also thick but lightweight, which makes it easier to hold. The cutlery is dishwasher safe and stain-resistant, has a shiny luster and comes with a wide range of floral designs. Adding this set to your kitchen will enhance the standard of your kitchen possessions. 
Parag -

Lily Stainless Steel Cutlery Set- This cutlery set is affordable and is made from high-quality stainless steel. The cutlery set has smooth curves and edges that make it attractive altogether. It is durable, lightweight, sturdy, and easy to clean and maintain. This cutlery has a vintage look and gives a comfortable grip. This can also suit your kitchen best because of its unique features and beautiful design. 
Conclusion
: If you are planning to buy the best Or the latest cutlery set, choose Shri and Sam, they have an ample variety of cutlery sets that can suit your kitchen best at a very reasonable price. For more information, please have a look at their website
https://shriandsam.com/collections/cutlery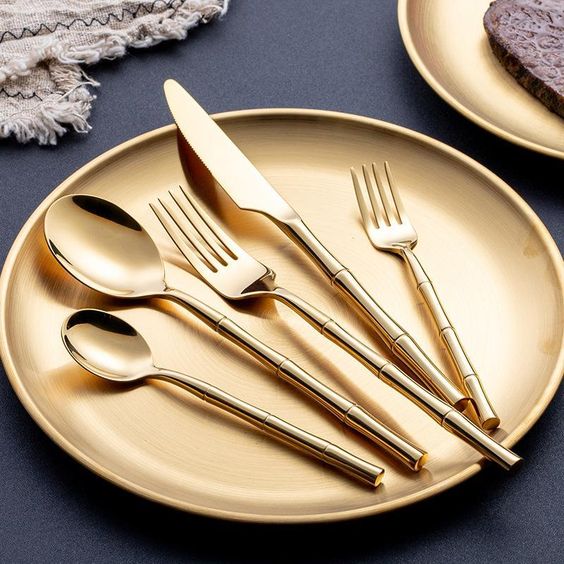 Cutlery
Cutlery to Flaunt Your Kitchen
Cutlery has become an essential tool not only in the kitchen but also at the dining table. People are also fond of decorating their kitchen and dining tables with beautiful cutlery sets. Some peopl...
Read more
Kitchen Guide
Dinner sets are essential for eating and enjoying a perfect dinner in every household. For a great dining experience, food presented through Dinnerware adds an extra charm to it, and it appears lik...
Read more