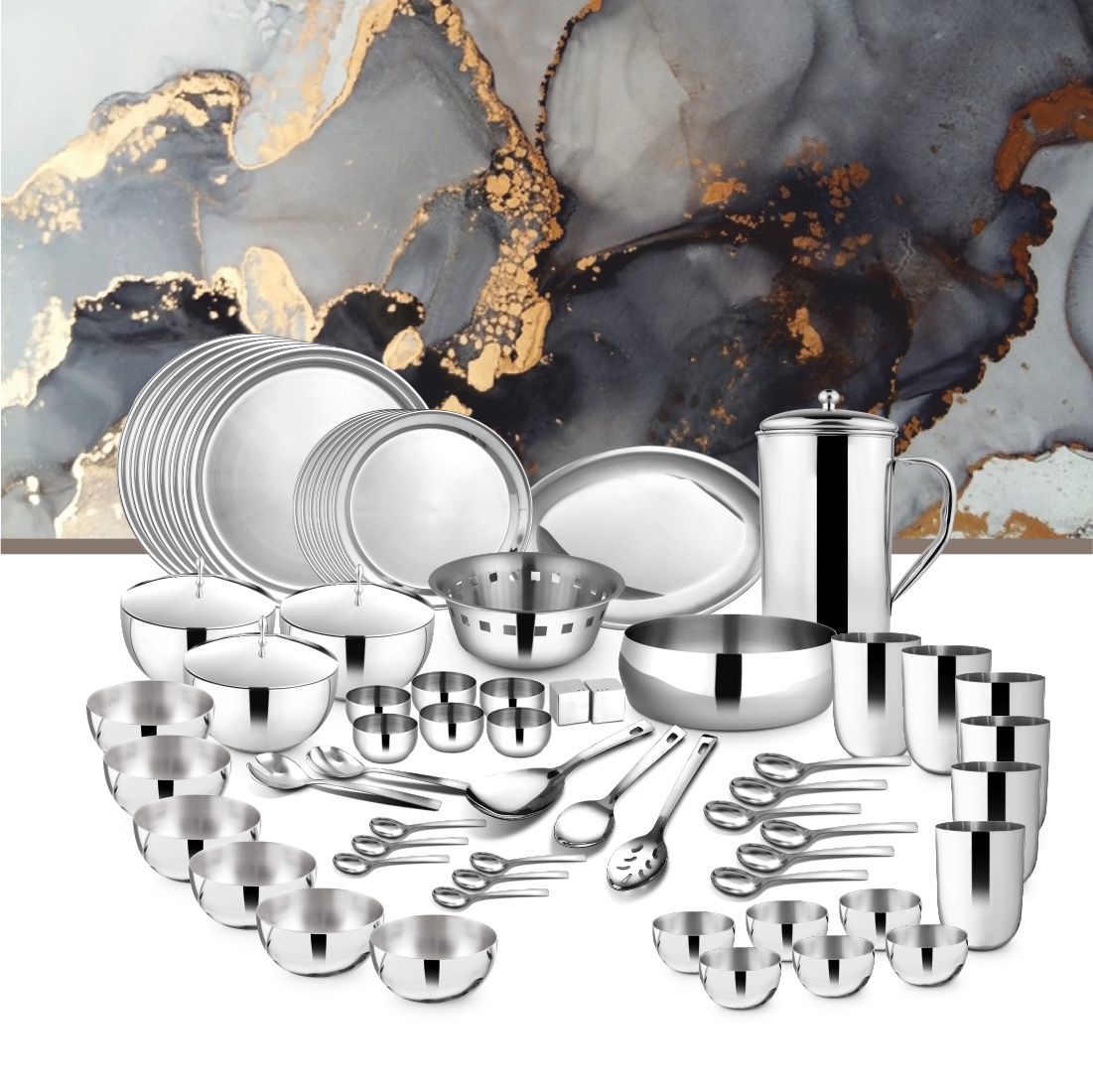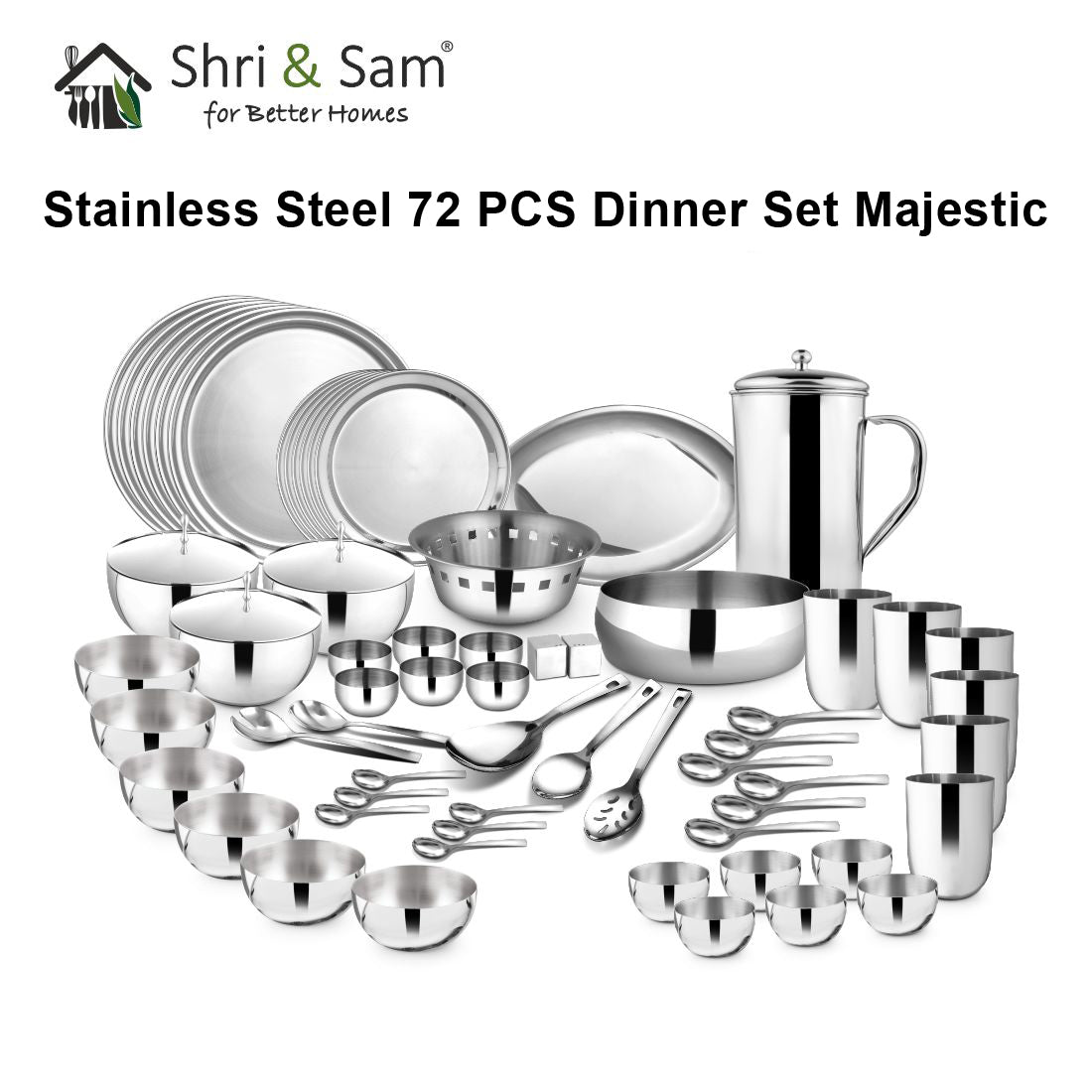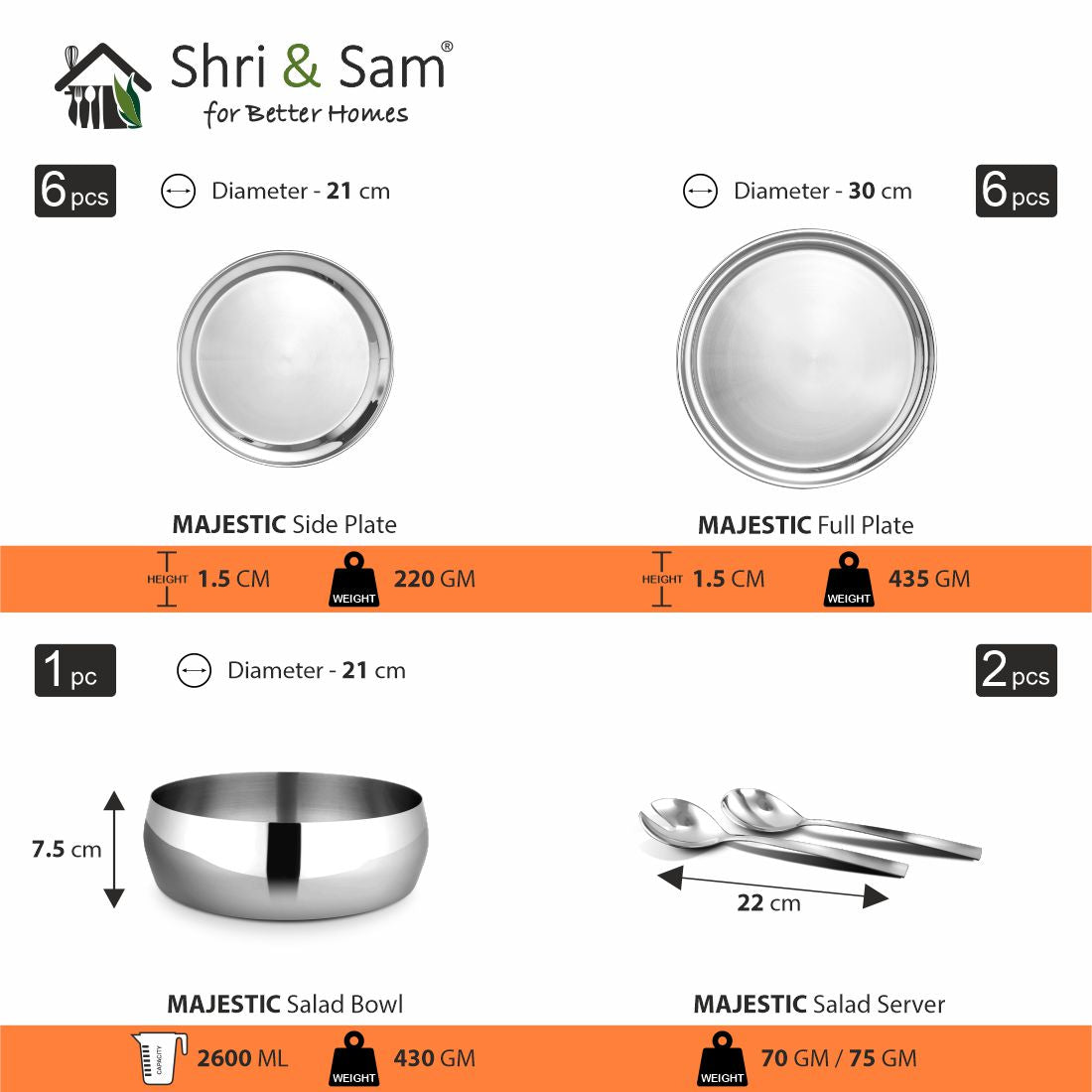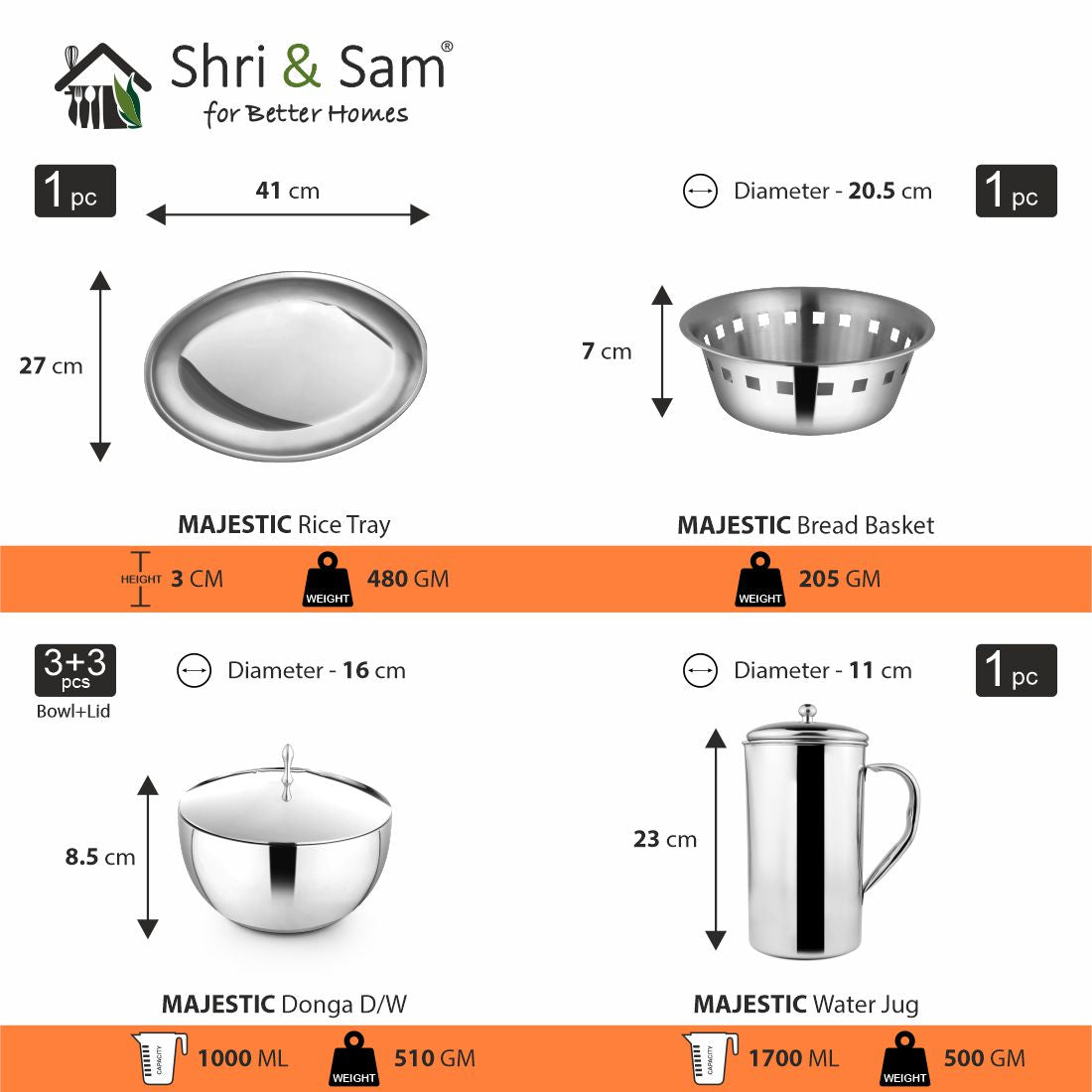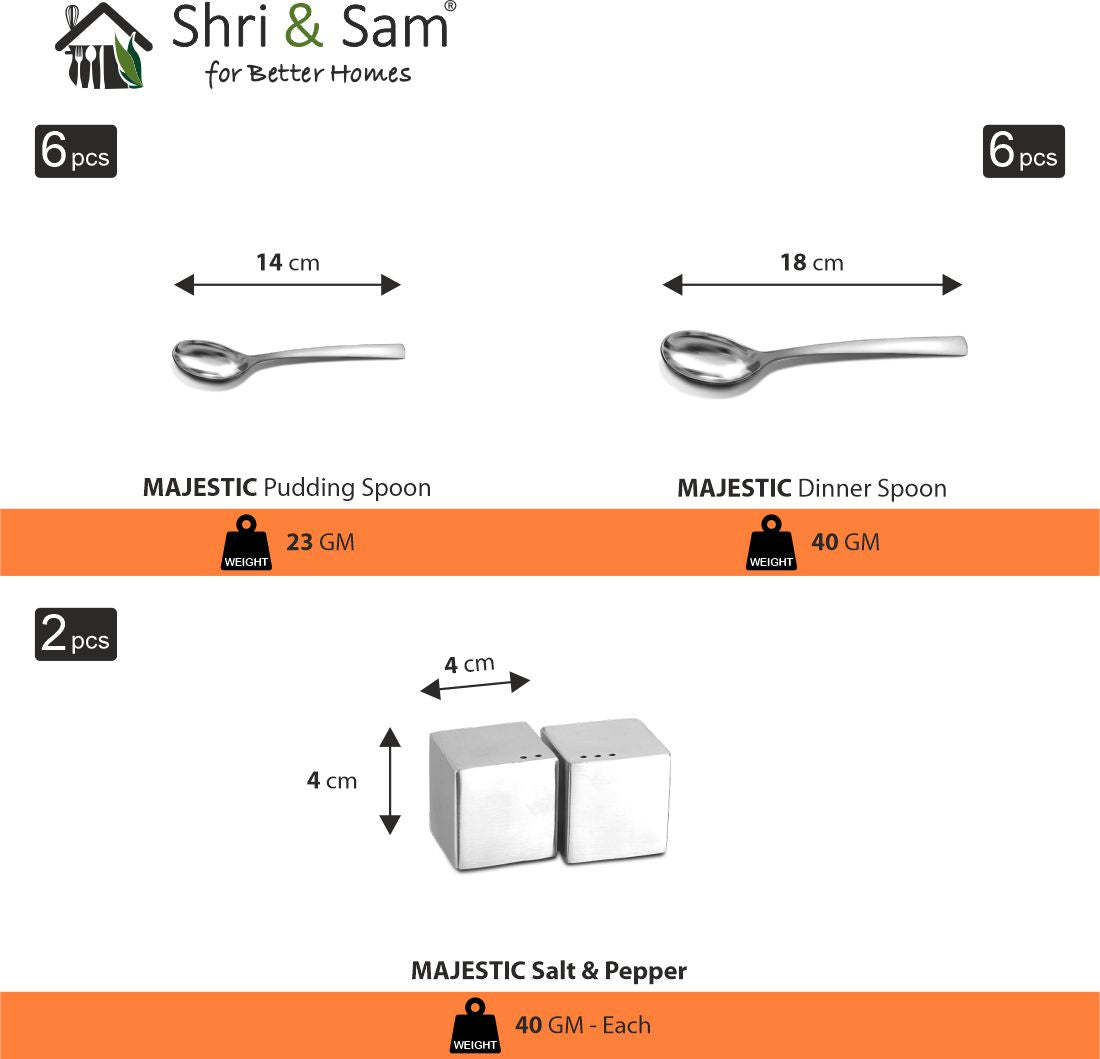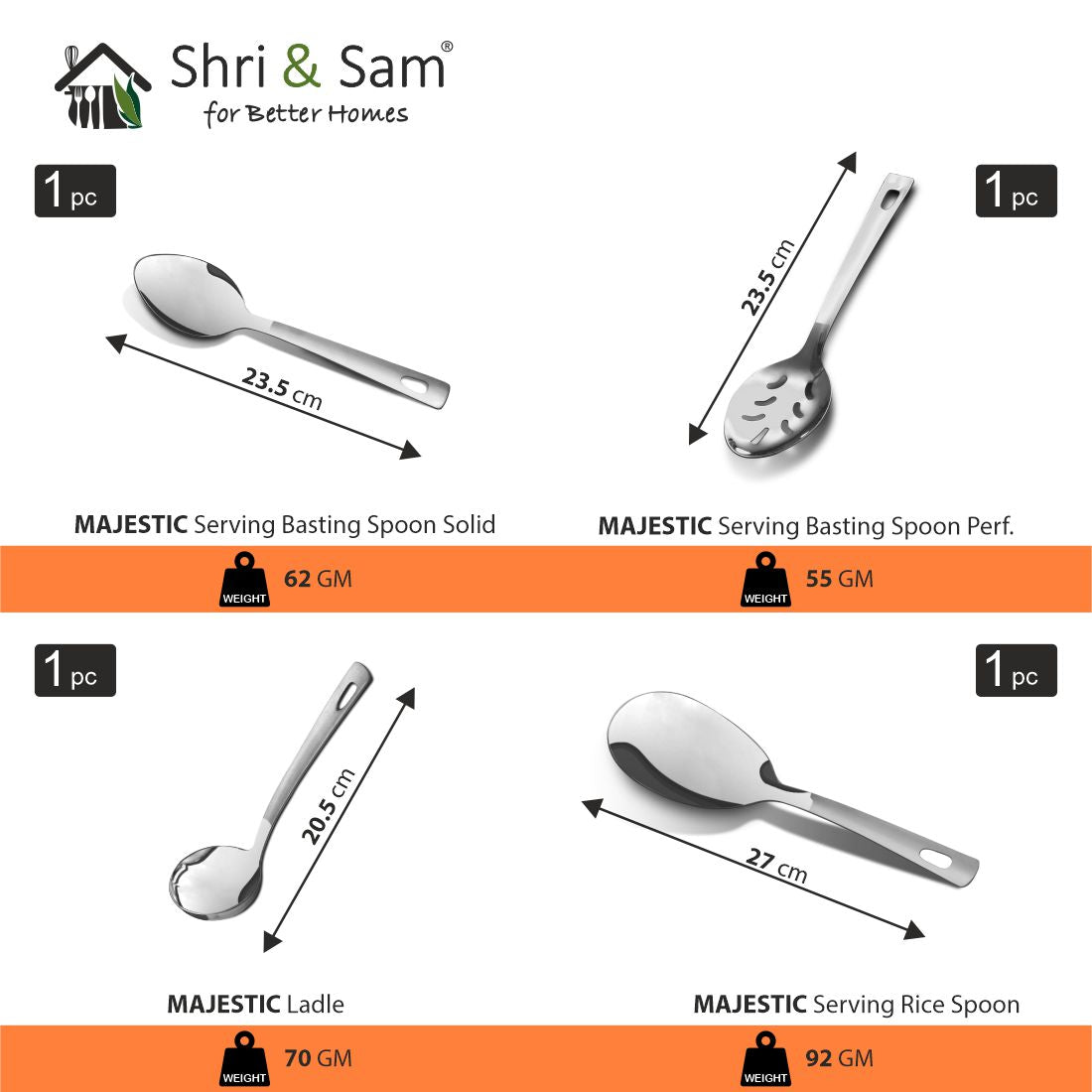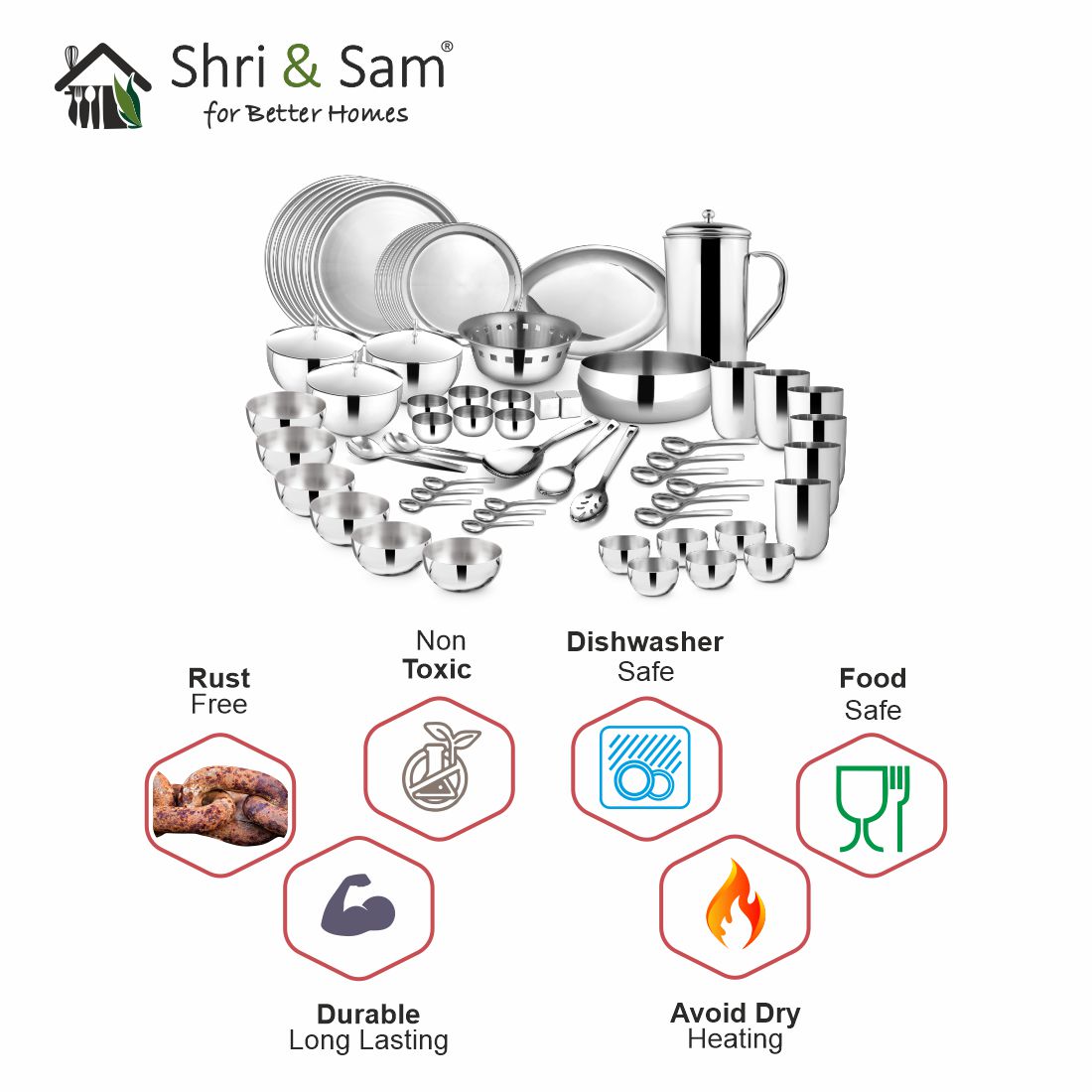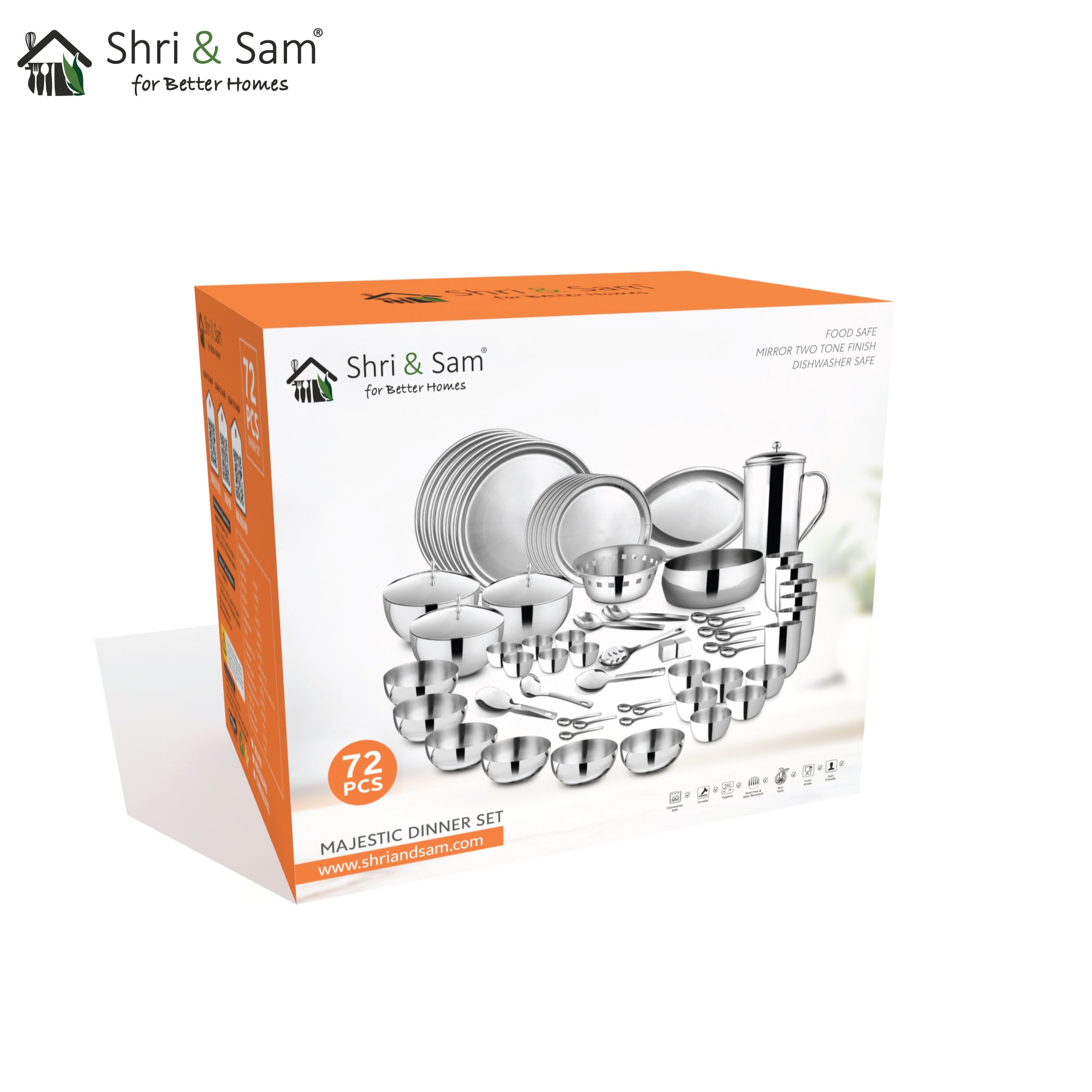 Stainless Steel 72 PCS Dinner Set (6 People) Majestic
Sale price
Rs. 18,999.00
Regular price
(/)
Tax included & Free COD
FEATURE VIDEO
UNBOXING VIDEO
Item Content: Full Plate - 06 N, Side Plate - 06 N, Big Bowl - 06 N, Small Bowl - 12 N, Glass - 06 N, Donga D/W - 06 N (3+3 SS lid), Salad Set - 03 N, (Bowl + 2 Salad Server), Dinner Spoon - 06 N, Sweet Dish Spoon - 06 N, Rice Tray - 01 N, Water Pitcher - 01 N, Serving Spoon Set - 04 N, Salt & Pepper - 02 N, Chutney Bowl - 06 N, Bread Basket - 01 N
This Shri and Sam 72 PCS Dinner Set will make a perfect utility item while adding a stylish edge to your dinner table, this set is made from high-quality stainless steel making it exclusive and durable, beautifully designed to add grace to your dining experience also strong in construction and will not bend or have dents during normal use. This set can be nested one into another and therefore help save shelf space in the kitchen perfect for all kitchen needs. This dinner set can be the ideal gift and can be a beautiful host to your guests. This quality stainless steel is made from premium quality raw material and this dinner set is very easy to clean. The dinner set has a shiny finish to it and it will magnify the look of any dinner setting.
Size Sets - 72 PCS
Material - Stainless steel
Color - Silver
Diameter of plates - Dinner plates: 30 cm, Side plates: 21 cm, Rice Tray: 41 cm
Diameter of bowls - Big bowls: 1 cm, Small bowls: 8 cm, Chutney bowls: 6 cm
Diameter of Serving Utensils - Donga: with lid: 17 cm, without lid: 16 cm, Salad bowls: 21 cm,  Bread basket: 20.5 cm,  Water pitcher: 11 cm
Length of cutlery - Dinner spoon: 18 cm , serving basting spoon solid: 23.5 cm , serving basting spoon perforated: 23.5 cm , serving rice spoon: 27 cm , ladle: 20.5 cm , pudding spoon: 13.5 cm , salad spoon: 22 cm , salt & pepper: 4 cm
Capacity - Chutney Bowl: 90 ml, Small Bowl: 225 ml, Big Bowl: 350ml, Glass: 300 ml, Donga: 1000ml, Salad Bowl: 2600ml
Height - Dinner plates: 1.5 cm , Side Plate: 1.5 cm , glasses: 10 cm , small bowls: 5 cm , big bowl: 5 cm , chutney bowls: 3.2 cm, salad bowls: 7.5 cm , bread basket: 7 cm , donga: with lid: 9.5 cm , without lid: 8.5 cm , water pitcher: 23 cm , salt & pepper: 4 cm
Weight - Dinner plate: 435 grams, Side Plate: 220 grams, glass: 100 grams, small bowl: 85 grams, big bowl: 95 grams, donga: with lid: 620 grams, without lid: 380 grams, chutney bowls: 35 grams, rice tray: 480 grams, salad bowl: 430 grams, salad spoon: 70 & 75 grams, bread basket: 205 grams, water pitcher: 500 grams, ladle: 70 grams, basting spoon slotted: 55 grams, basting spoon: 62 grams, rice spoon: 92 grams, dinner spoon: 40 grams, pudding spoon: 23 grams, salt & pepper: 80 grams.
Product Weight - 12 Kg
Production - Made in India
This product is Food Grade.
This product is Food Safe.
This product is Durable.
This product is Rust Free.
This product is Dishwasher Friendly. 
 CAUTION: This product is not microwave friendly.
Manufacturer - Jagdamba Cutlery Limited
Address - Plot No. 120-121, HSIIDC, Sector - 53, Phase-V, Kundli, Industrial Area, Sonipat - 131028, Haryana
Country Origin - India
Manufacturing Date - June-23
Choose options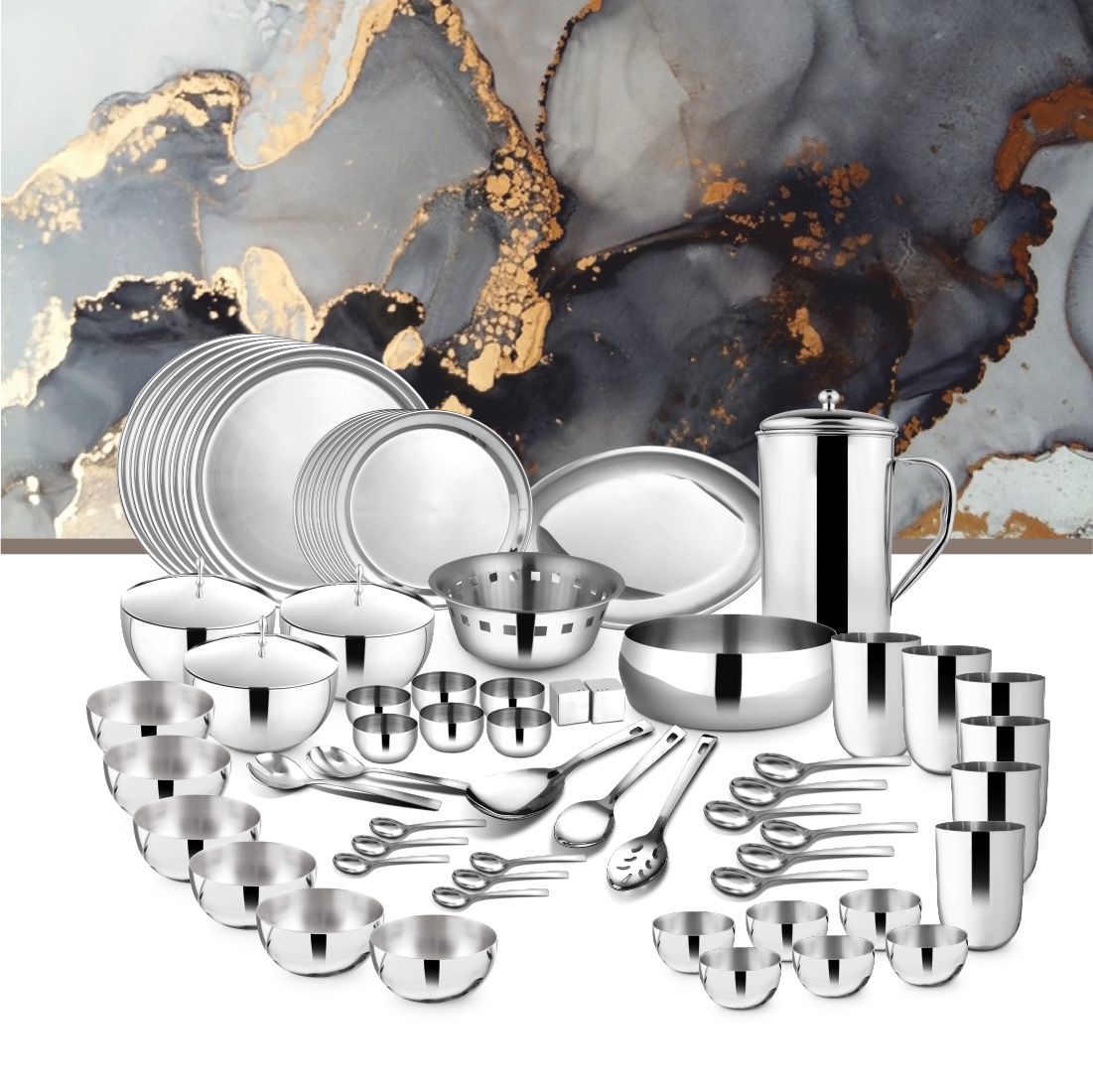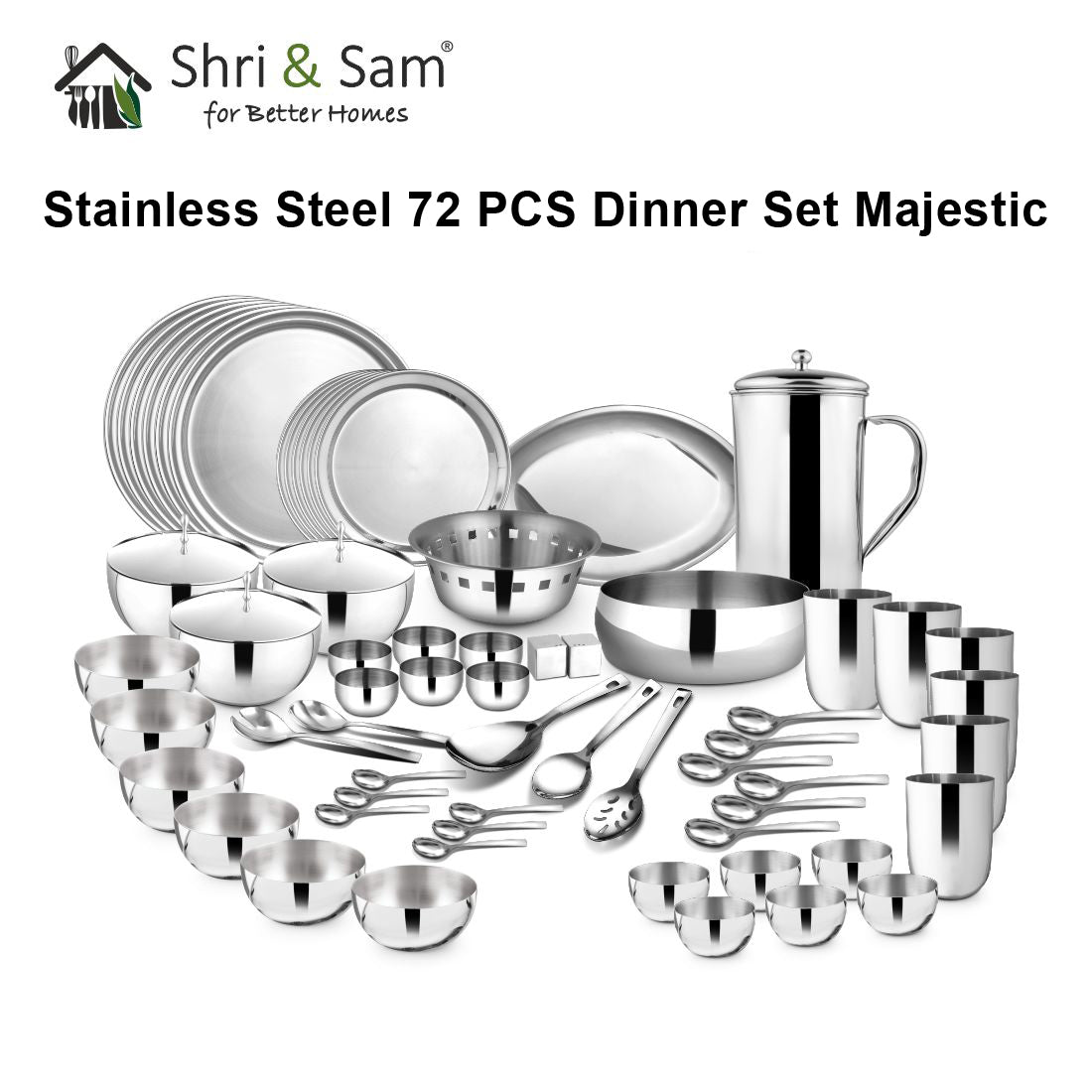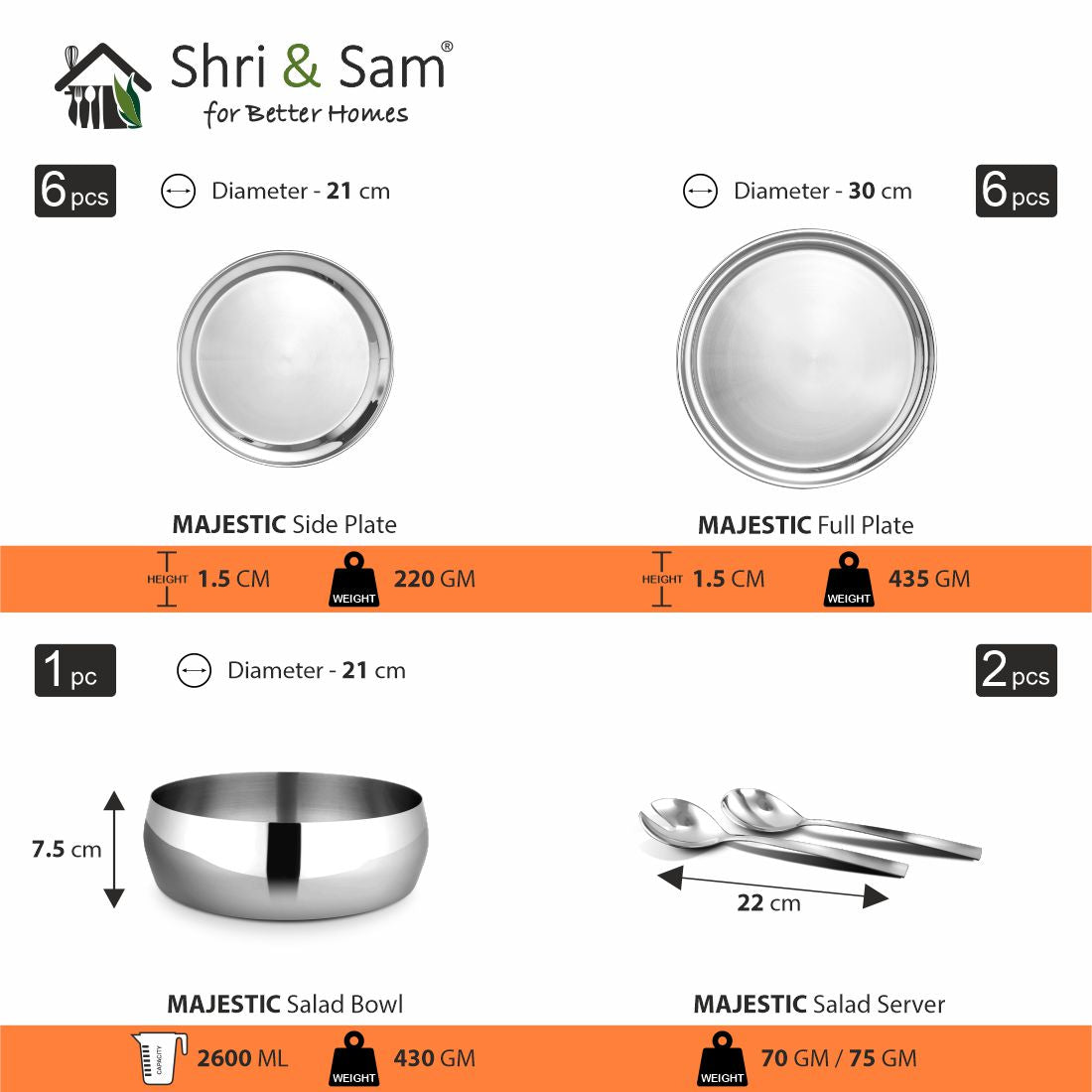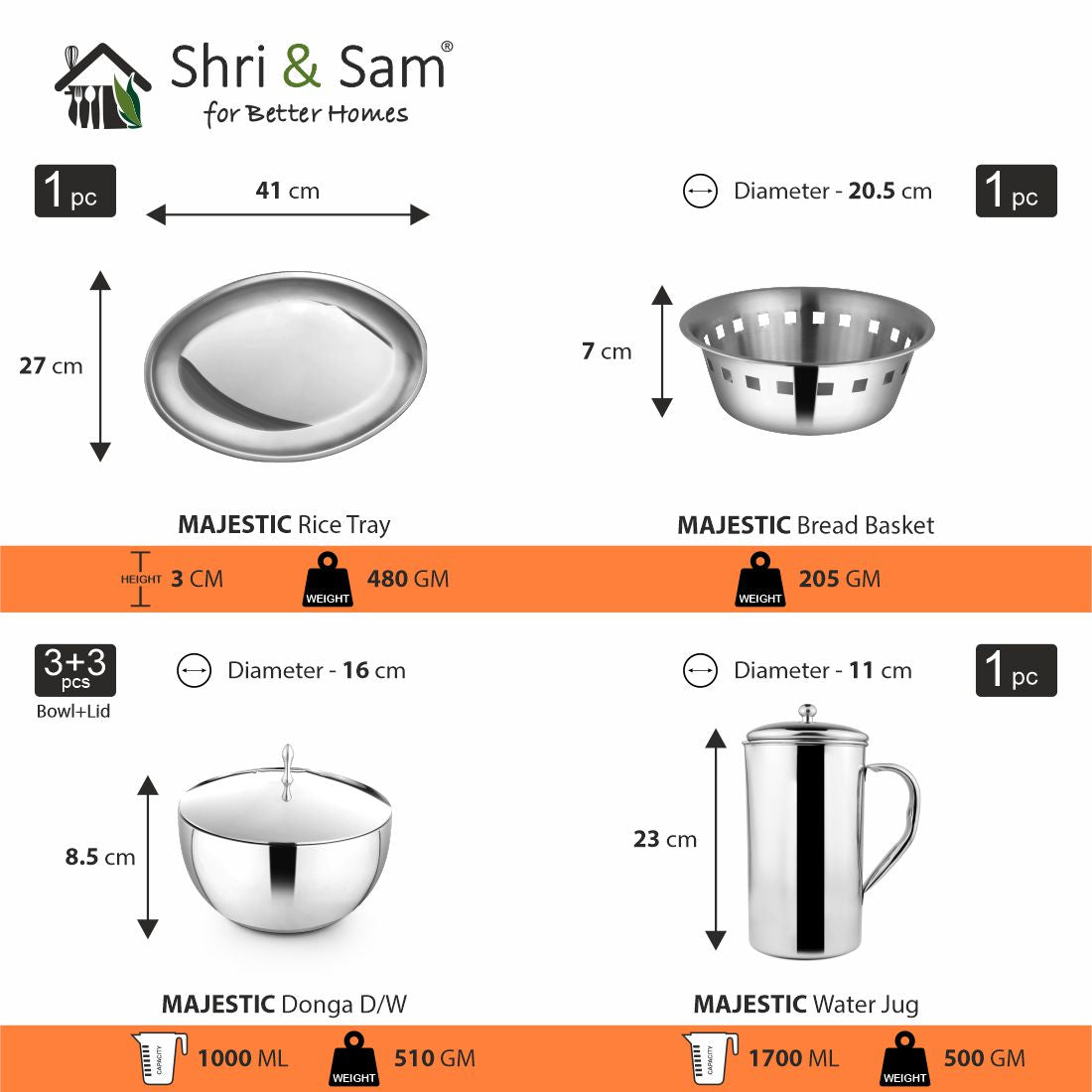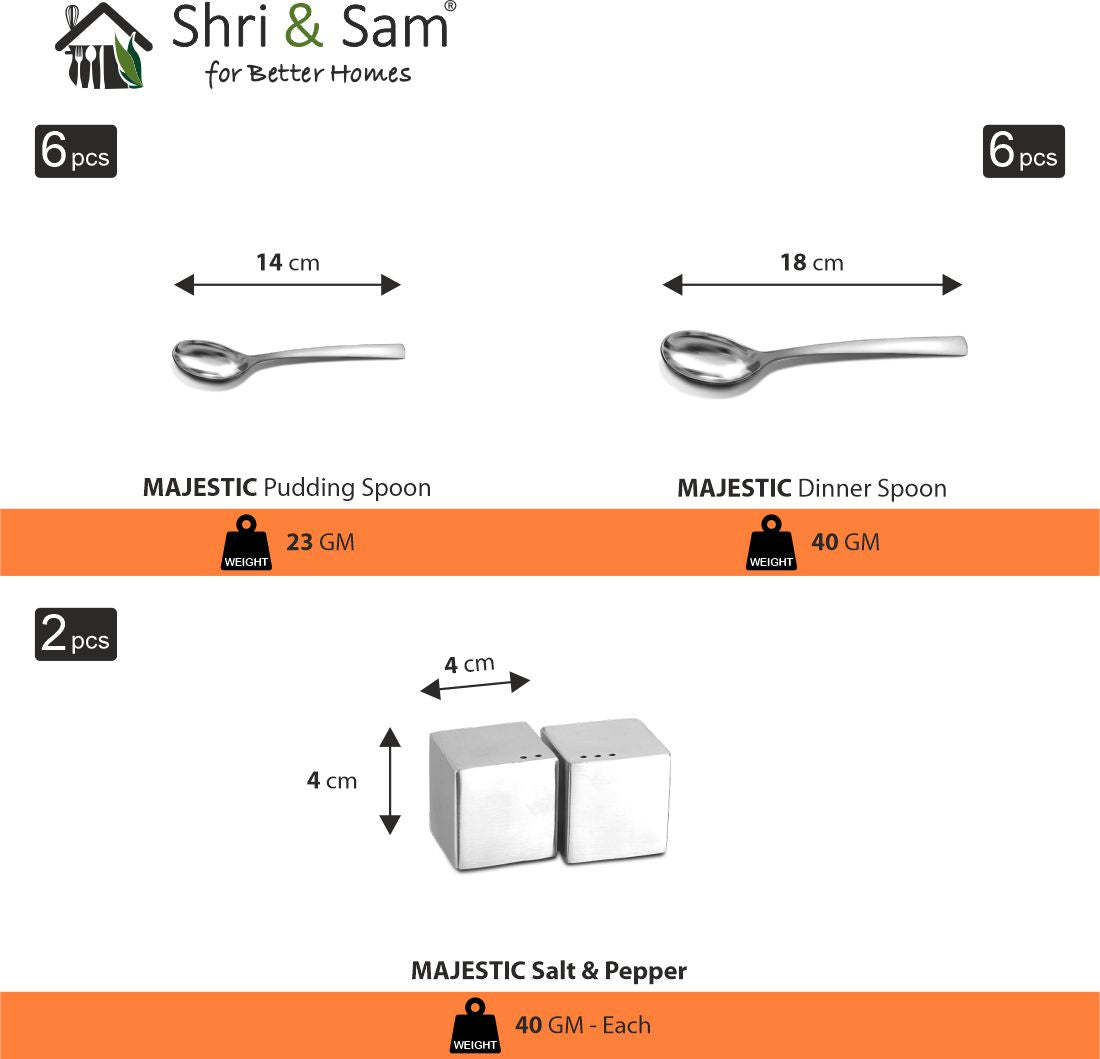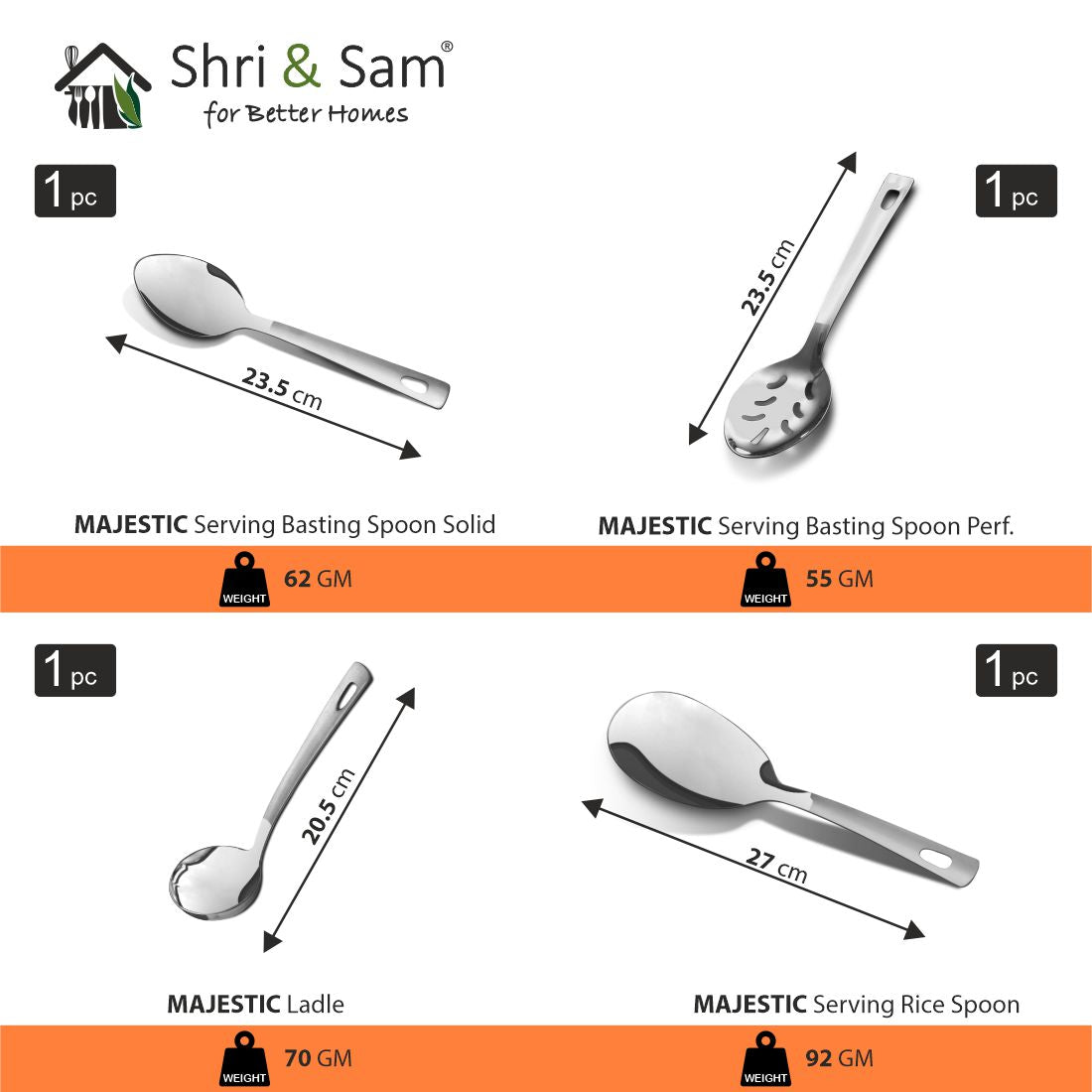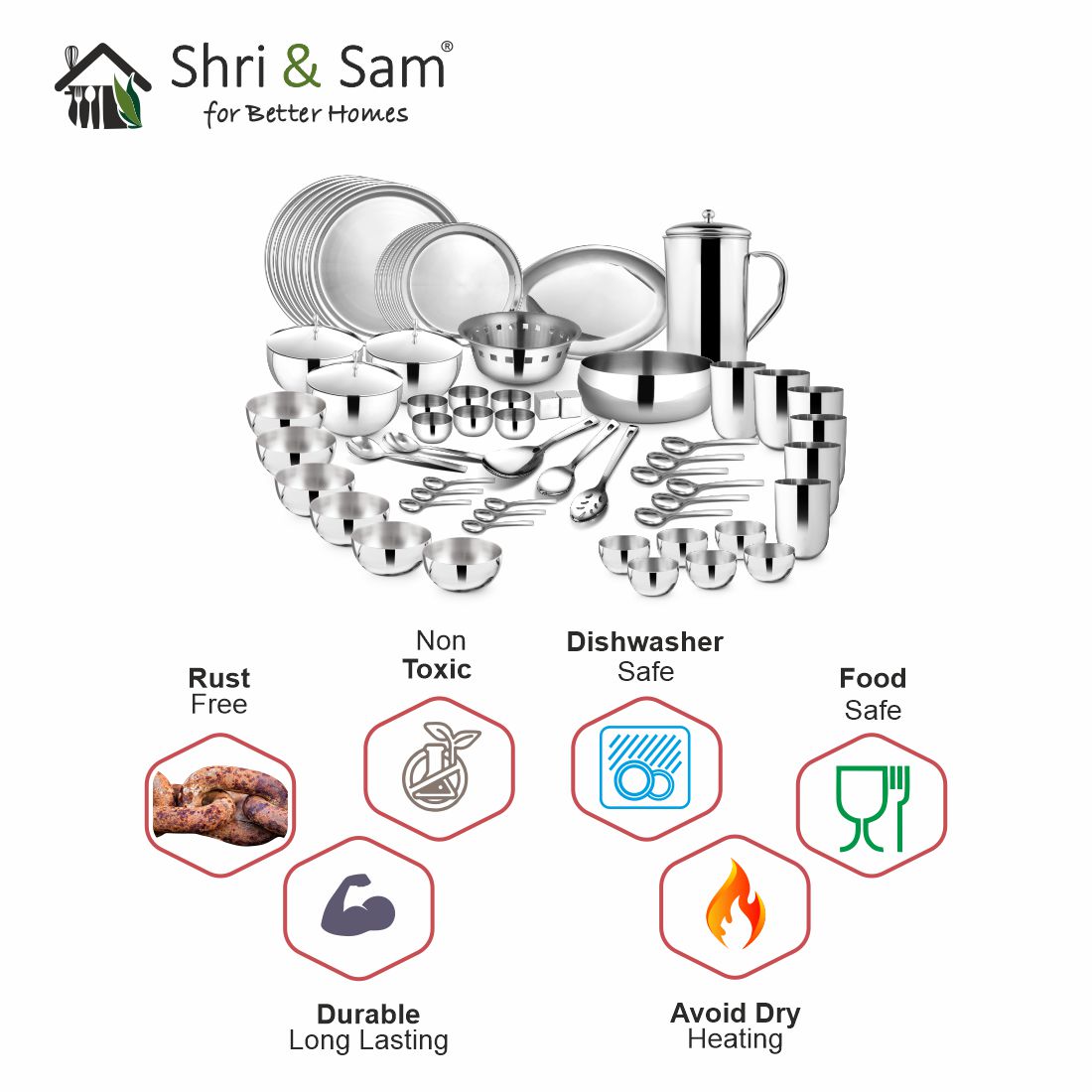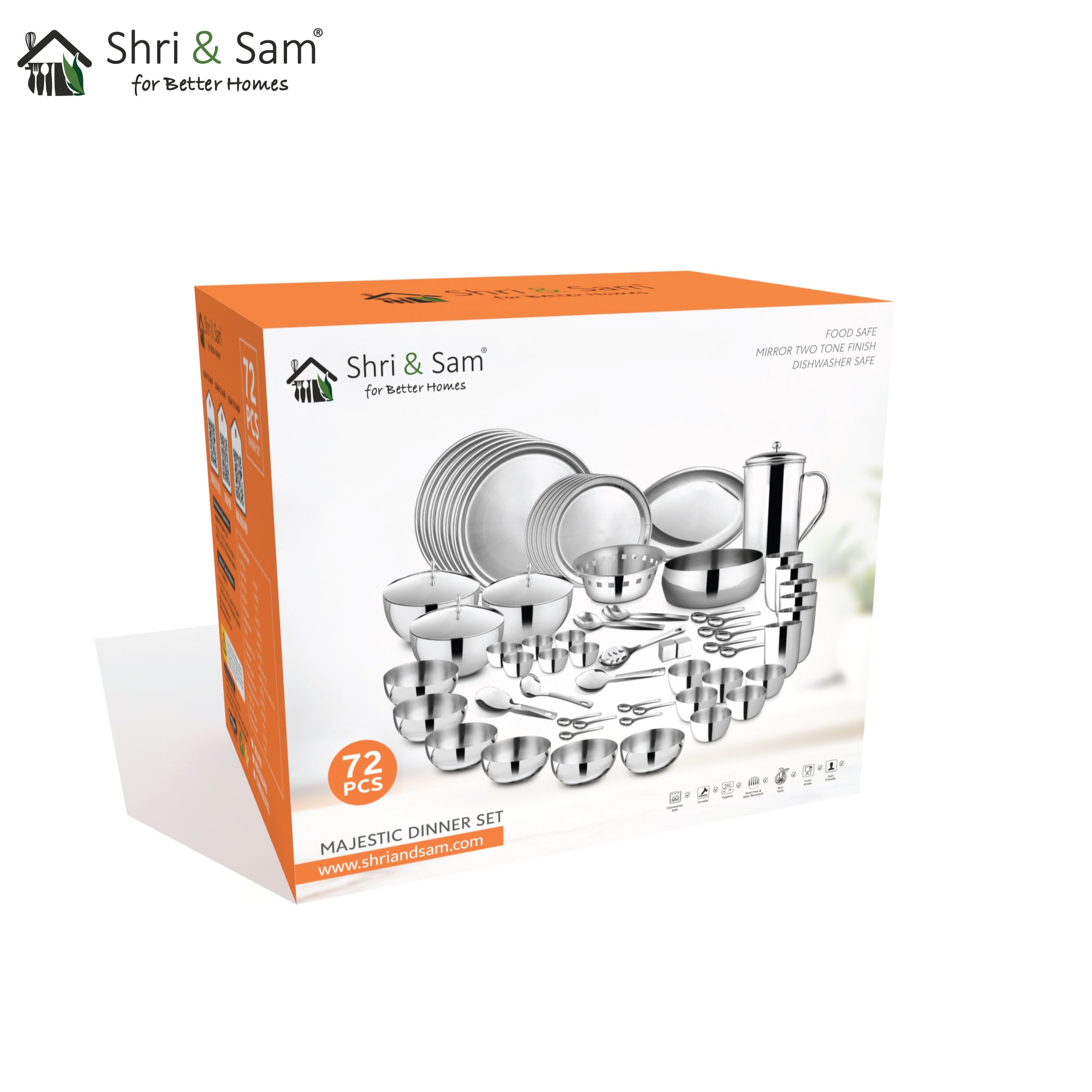 Sale price
Rs. 18,999.00
Regular price
(/)
Tax included & Free COD
View details
Majestic SS Product is of High quality
Extra Set of 72 pcs - extraordinarily design and is of best quality. Recommend to all who wish to go for it.
Best product
The product was amazing and was really easy to use and I loved it
Value for money
Perfect for 6 person...it is not smell as steel on set..I think it's good deal
Vry good product
Thz product is very good as shown same as n picture....worth for money I lyk it so mch