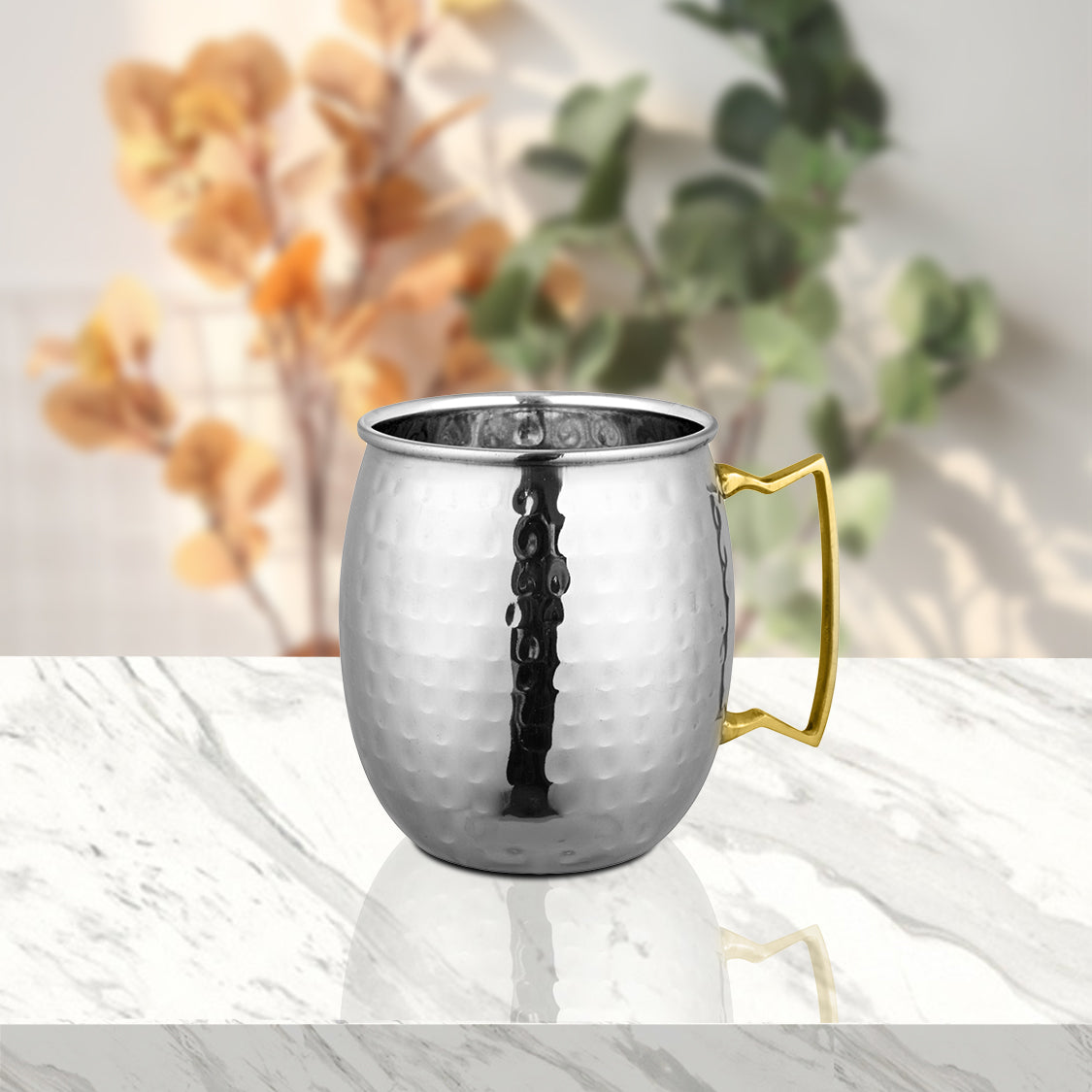 What is a Stainless Steel Hammered Mug used for?
The stainless steel hammered mug serves as the perfect combination of utility plus style, as its interior permits you to do every type of beverage. Shri and Sam's stainless steel hammered mug allows you to serve beverages such as carbonated drinks, lemonades, soda, and many others. Moreover, its hammering technique adds vintage style to the product, and the high-quality stainless steel plating doesn't get chipped off and is tarnish resistant. It also includes an attached handle that allows a thumb to offer high support during mug holding. These types of mugs are easy to maintain and clean. 
Stainless Steel Hammered Mug Uses
These hammered mugs are ideal for everyday use as they allow you to drink every liquid. Use the face both for a cold and hot beverage and possess an attractive design that could make any table charming. Shri and Sam's stainless steel hammered steel body and golden-coloured handle make it look fashionable. Drinking any beverage in this awesome mug seems to be classy and royal as the item possesses a hammered outlook. The product is specifically designed so that it doesn't feel heavy while lifting with a beverage. Let's dive more deeply into the item's usage.
Last longer
Stainless steel items are indestructible and include lifelong properties that don't go with repeated use. Fortunately, the stainless steel hammered mug beats all other material cups and is glamorous enough to enhance the beauty of your kitchen. Moreover, it provides strong impact resistance and is entirely recyclable and reusable.
Holds every drink
Shri and Sam's stainless steel hammered mug is non-toxic and free from various toxic materials such as lead, zinc, and BPA, which links to several health issues. Furthermore, it doesn't possess interior lining or coating that eventually disintegrates. Moreover, the product is famous for its hygienic and antibacterial properties, and you can achieve a clean taste without any smell. 
Easy to maintain and clean
Unlike glass and plastic mugs, stainless steel hammered mugs are pretty easy to clean. These mugs are resistant to rust, stains, and corrosion can be washed easily, and don't need careful handling. You could pass the item quickly by hand, put the mug into the dishwasher, or clean it with a soft sponge. 
Good for outdoor activities
Due to the robust durability of stainless steel hammered mugs, the item works well for outdoor activities like picnics and camping. They are suitable for holding cold and hot drinks and also make it easy to mix various beverages, either non-alcoholic or alcoholic. They are super easy to carry to any outdoor event with great ease. You could even recycle it at the end without its degradation, and it is durable and eco-friendly. 
Conclusion
Furthermore, Sri and Sam stainless steel hammered mug cleaning is simple but clean the mug's inside area with warm water. These types of faces require special care to maintain their quality and shine. Moreover, a stainless steel hammered profile allows you to achieve excellent health. A perfect item for your kitchen as it could enhance the beauty of your kitchen and greatly impress guests. Enjoy your favorite drink without worrying about any adverse health effects.
Click on the link below to buy this product: https://shriandsam.com/products/hammered-mule-mug-with-golden-handle