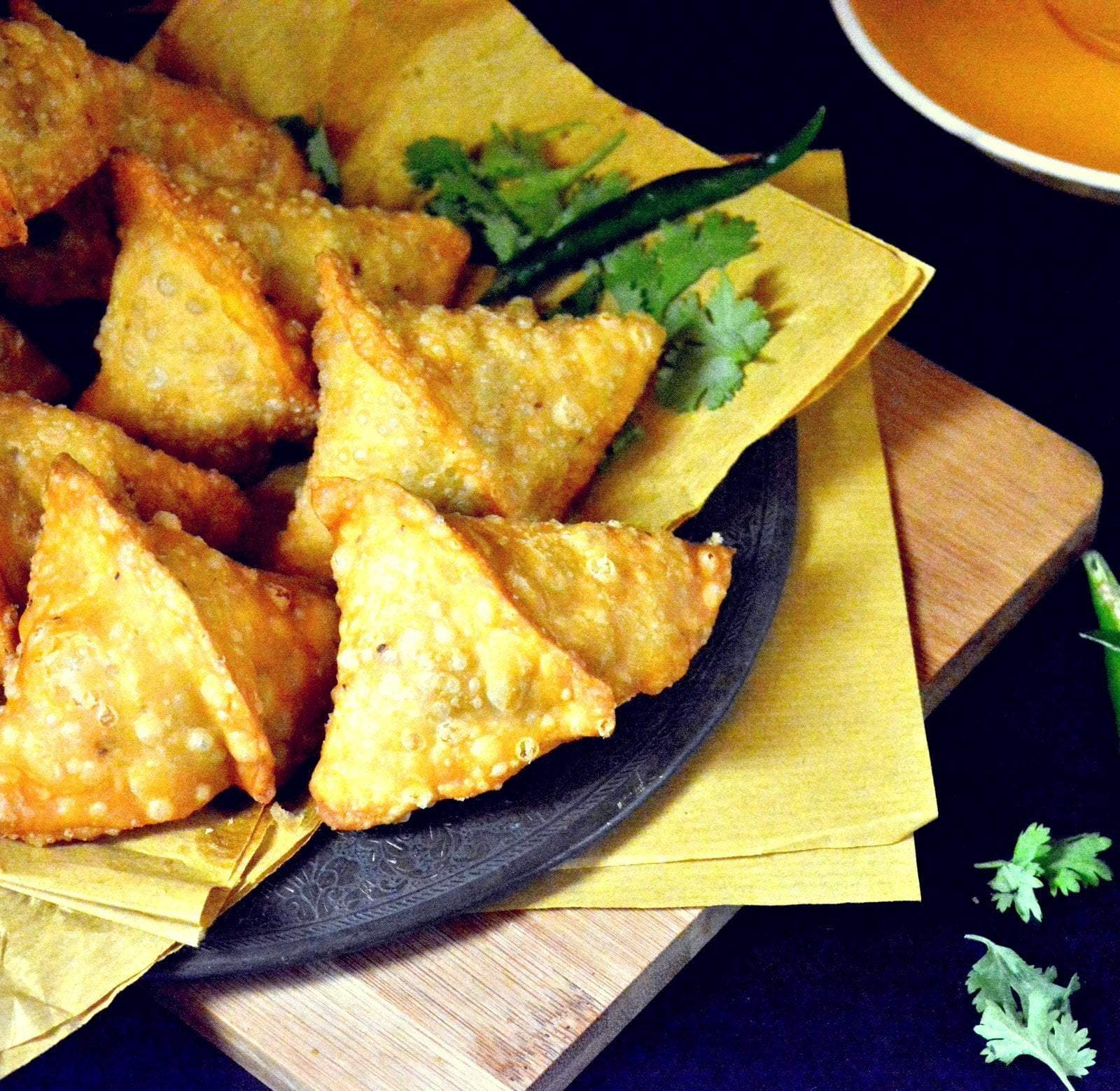 Vegetable Samosa

Course: Snack
Cuisine: Indian
 Prep Time: 40 minutes
 Cook Time: 30 minutes
 Total Time: 60-70 minutes
 Servings 7-8 people


Ingredients
15 Spring Roll Shells, super thin
2 tablespoons Vegetable Oil
1 teaspoon Cumin Seeds
1/2 Cinnamon Stick
tablespoon Fresh Ginger
1 Chili Pepper, minced
1/2 teaspoon Garam Masala
1/4 teaspoon Tumeric
2 Red Potatoes, diced
1 cup Carrot
1 cup Peas
1 cup Corn Kernels
1 tablespoon Lemon Juice
2 teaspoons Sugar
1 1/4 teaspoons Salt
1/4 cup Fresh Cilantro, chopped
2 tablespoons All-Purpose Flour
Vegetable Oil, to deep fry



Directions
Take a large bowl and put two table spoons water in it and put all the potatoes in it, then microwave it for about 4-5 minutes.
Mixing bowl


Now take another mixing bowl and put all the carrots, corn and peas in it, then put two table spoons water in it and microwave it for about 2-3 minutes.

Now take a kadai and put some oil in it, then put it on medium flame. Now add cumin seeds in it and also add cinnamon stick to it.
Linocut Triply Kadai


Now turn the heat to low as soon as the cumin seed turns brown. Then add ginger to it. After that add turmeric, garam masala and green chilies in it. Stir this well.

Now add the potatoes to the kadai and put it back on medium heat. Cook this for about 5 minutes.

Now add all vegetables from other bowl and cook this for about 5 minutes.
Little Dina Masher


Now add some lemon juice, salt and sugar in it as well.

Now add chopped coriander and let the mixture cool off.

Now take a small bowl and put ¼ cup water with flour and keep this aside.

Now take spring roll sheets and cut into 4 equal pieces.

Taking the corner of one strip fold it to make a cone shaped pocket and fill the pocket with about a teaspoon of the filling.

Continue to fold the strip over to create a triangle shape and seal the remaining edge with a dab of flour water mixture.

Now take a deep fry pan and heat it on medium flame with one to one and a half inch of oil in it.
Rockline Deep Fry Pan



Now place the samosas one by one in the fry pan and fry them well until they are golden.


Your samosas are ready to be served. They can be served with green chutney or ketchup.
Recipes
Tiranga Halwa or Tri Color Halwa
Course: Dessert  Cuisine: Indian  Prep Time: 30 minutes  Cook Time: 35-40 minutes  Total Time: 65-70 minutes  Servings 3-4 people One of the famous Indian traditional dessert is Halwa, it is usual...
Read more
Recipes
For all the cheese lovers, this is a dream come true. This is a very simple recipe, that can be made quickly and can be a very good snack to have with your loved ones.   Preparation Time: 10 minu...
Read more