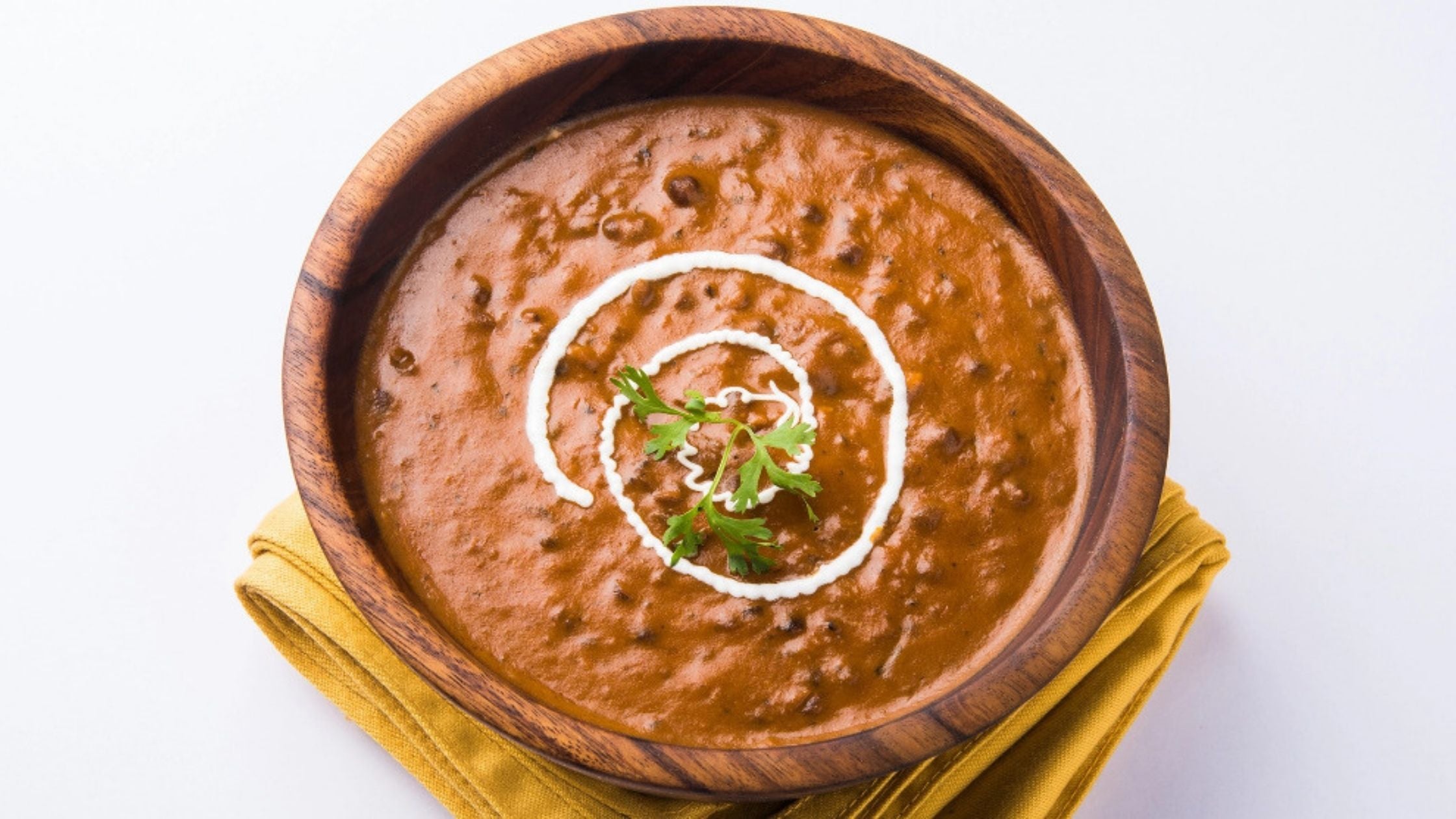 Prepare Dal Makhani with our ultimate recipe
Dal makhani is an Indian Side dish made with black lentils and red kidney beans with spices, butter, and cream. Dal refers to lentils, and makhani refers to curry. Dal Makhani is originated from Punjab in India and Pakistan. This Punjabi recipe is very traditional to be served during festive mode to the family and guests. Making makhani dal is a straightforward process, but the lentils need to be slow-cooked. Authentically it was prepared by simmering lentils on wood/Coal for prolonged hours to yield a buttery, creamy, thick, and best-tasting dal. It is a fantastic dish to be prepared along with the luscious meal. Serve this dal with garlic Nan, tandoori roti, jeera rice, and enjoy the most while eating it with your family and loved ones.
Recipe Card:
Preparation time: 15 minutes

Cooking time: 2 hours

Serving: 5 people

Calories: 345 kcal

Course: Side Dish

Cuisine: Indian

Equipment: Slow Cooker
Pressure cook and prepare Dal Makhani
1 cup of whole black lentil(Black whole Urad dhal)

¼ cup of Rajma( Red Kidney Beans)

4 cups of water for pressure cooking

 ¼ teaspoon of salt
Tempering:
Three tablespoons of unsalted butter.

One tablespoon of ghee

One medium onion finely chopped(65 gms)

1 cup of tomato puree(210 gms)

Two teaspoons of salt(adjust to taste)

¾ to 11/2 teaspoons red chili powder(adjust to liking)

One teaspoon of garam masala( add flavored one)

2 cups of water

½ teaspoon of Kasuri methi(dried fenugreek leaves) 

¼ cup fresh cream( for garnish)
Whole spices (optional):
One bay leaf

2-3 Cardamom pods

One black Cardamom

4-5 cloves
Preparation:
Add black urad dal and rajma to a big pot and rinse it well several times. Soak them in 3 to 4 cups of water for 7 to 8 hours.

After being soaked for several hours, drain the water and rinse it well.

Pour 4 cups of water into the pressure cooker, add ¼ teaspoon of salt to the mixture, and pressure cook it well for ten whistles on medium heat.

If cooking in an instant pot, pressure cook on high pressure for 20 minutes.

Both the urad dal and rajma must be softly cooked. When smashed with a spoon, it must be soft and mashed smoothly. If not cooked smoothly, add ½ cup of water, then pressure cook with 3 to 4 whistles on medium heat.
How to make dal makhni?
Heat the heavy stove bottom pot with butter and ghee. Then add the whole spices and sauté well in the pool for half a minute.

 Then add onions and fry till they turn a golden color.

Add the ginger-garlic paste and stir well for 1 minute until the raw smell disappears.

Then add the tomato puree and cook it for 3-4 minutes, until it turns into a thick paste.

Add salt, chili powder, and garam masala powder. Sauté well until the masala smell turns excellent and comprehensive.

Cook on a low flame, so the dal gets thick consistency and stir in-between, so it does not get burnt at the bottom. After 1 hour, the dal thickens well.

Add ½ cup of hot boiling water and cook for another 30 minutes, so it turns thick. The total cooking time for the dhal to get thick consistency is around 90 minutes.

 Add Kasuri methi and fresh cream to the dhal curry and cook for 6-8 minutes until it becomes creamy and buttery curry.

Add salt after tasting if required. Add butter and mix well.
Dhungar- Smoking Dal Makhni:
Place a small cup of steel into the Dal makhani curry. Hold 1 to 2-inch natural wooden charcoal with a tong and burn it on direct fire until it turns red hot.

Quickly pour ¼ tsp ghee on the desirable goal. Immediately cover the pot and allow smoking for 3 to 4 minutes. For a more robust flavor, add ghee to the coal and repeat the process.

Garnish with full cream or butter on the dhal curry and serve it well.
Nutrition value
Carbohydrates: 31g 

Protein: 13g 

Fat: 20g 

Saturated fat:9 gCholesterol: 39mg 

Sodium: 778mg 

Potassium: 291mg 

 Fiber: 11g 

 Sugar: 4g
Final words
Follow the tips mentioned above, and prepare the most delicious Dal Makhani ever to enjoy with your near and dear ones.