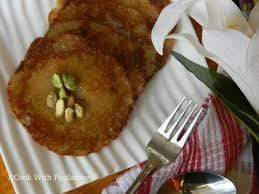 Paneer Malpua Recipe
Recipe Servings: 2
Prep Time: 15 Minutes
Cook Time: 30 Minutes
Total Cook Time: 45 Minutes

Ingredients 

For Malpua:
100 Gram Malai Paneer

3 Tbsp Khoya

8 tsp Milk

1 tsp Powdered Sugar

1/4 tsp Cardamom Powder

2 Tbsp Maida

1 Cup Ghee
 
For Sugar Syrup:


1 Cup Sugar

1 Cup Water

1/4 tsp Saffron

1/4 tsp Cardamom Powder

1 tsp Dry Fruits
How to

For Malpua
1. Start by taking a big mixing bowl and put all the paneer in it along with khoya and 4 tsp milk in it. Mix it well, then put it in a grinder and grind it.


Deep Mixing Bowl

2. Now make sure that you beat it properly to make it smoother.


Ultimate Series Kitchen Tool
3. Now pour the batter back in the mixing bowl and add powdered sugar to it along with cardamom powder and maida.

4. Then add approximately 1-2 tsp of milk, according to the need and beat it again.

5. Now take a pan and put it on medium flame with ghee in it.


Caldera Pan
6. Now drop about a tablespoon of mix at a time and start cooking until it becomes light brown or goldenish on both sides.


Queen Serving Tool

For Sugar Syrup
1. Now take another pan and put it on medium flame along with sugar and water in it. Wait until the sugar dissolves.


Rockline Pan with Glass Lid
2. Then add saffron and mix it well, it gives a very good fragrance.

3. Then add cardamom powder and dry fruits in it, mix it well and boil it well to make it a smooth syrup.

4. Take all malpuas and dip them in sugar syrup for 10-15 minutes.


Deep mixing Bowl
5.  Once the malpua soaks the syrup, you can serve it by garnishing dry fruits on top.


Double Wall Dessert Set


Recipes
Oatmeal Cookies have been around since the 1800s and then slowly by the 1900s it became really famous. These are considered healthy because they are excellent  source of iron and fiber.Oatmeal Cook...
Read more
Recipes
Potatoes simmered in curd, an easy and quick recipe that is delicious. This is a gravy dish that can be served with either steamed rice or just rotis. Recipe Servings: 2 Prep Time: 15 minutes ...
Read more