Dahi Wala Aloo Recipe
Potatoes simmered in curd, an easy and quick recipe that is delicious. This is a gravy dish that can be served with either steamed rice or just rotis.


Recipe Servings: 2

Prep Time: 15 minutes
Cook Time: 20 Minutes
Total Cook Time: 35 Minutes

Difficulty Level: Medium

Ingredients
1/4 Cup Ghee

1 Cup Cumin Seeds

1/8 tsp Asafoetida Water

1 tsp Ginger

2 Nos Tomato, pureed

1/2 tsp Garam Masala

1 tsp Coriander Powder

1/2 tsp Salt

1/2 tsp Turmeric Powder

1/2 tsp Red Chilli Powder

3-4 Potatoes (Boiled)

1 Green Chilli, chopped

1/2 Cup Water

1/2 Cup Curd

1/4 Cup Coriander Leaves
How to
1. First of all, start by taking a frying pan and put it on medium flame with ghee on it.


Strato Set of 2 Pcs
2. Then add some asafetida water and cumin seeds in it.

3. Then, sauté them properly.


Ultimate Kitchen Tools
4. Then add ginger and tomato puree  in it.
5. After that mix them well and then add garam masala, salt, turmeric powder, coriander powder and red chili powder.


Spice Box
6. Then thoroughly, mix the spices.

7. When that is done, then add boiled potatoes and green chilies in it.

8. Then, mix them well.

9. After that, add some water to it and also mix them well. Cook it for about 5 minutes.

10. After that add some curd in the cooked potato gravy

11. Keep mixing it thoroughly until the potatoes turn brownish in color.

12. After that, add some coriander leaves and then mix them well.

13. Your Dahi Aloo is ready to be served.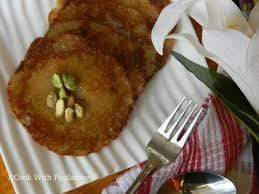 Recipes
Recipe Servings: 2 Prep Time: 15 Minutes Cook Time: 30 Minutes Total Cook Time: 45 Minutes Ingredients  For Malpua: 100 Gram Malai Paneer 3 Tbsp Khoya 8 tsp Milk 1 tsp Powdered Sug...
Read more
Recipes
 Course Snack  Cuisine Indian  Prep Time 10 minutes  Cook Time 20 minutes  Total Time 30 minutes  Servings 4 people   This is a very healthy and filling recipe. Here we have used chana dal s...
Read more