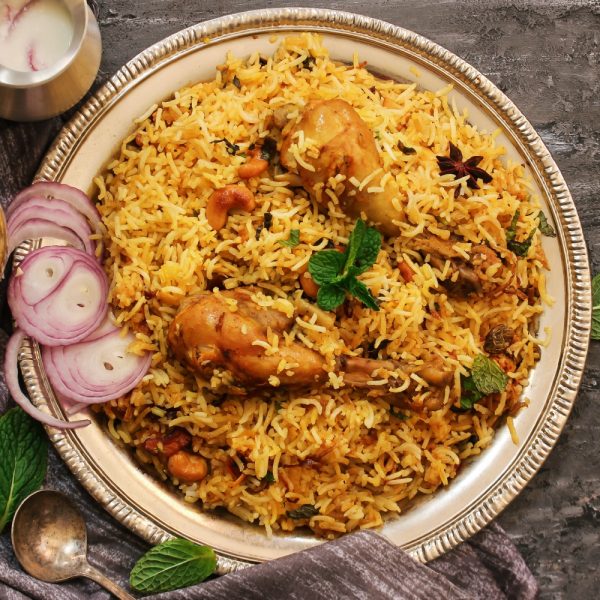 Chicken Biryani in Pressure Cooker
Course: Main
Cuisine: Indian
 Prep Time: 60 minutes
 Cook Time: 25-30 minutes
 Total Time: 85-90 minutes
 Servings 3-4 people

Ingredients
Marination
½ kg chicken

3 tbsp yogurt

1 ¼ tbsp ginger garlic paste

½ tsp

Salt

¼ tsp. turmeric

½ to 1 tsp. red chili powder 

½ to 1 tbsp biryani masala powder 

1 tbsp Lemon juice 



Dry spices to Temper
1 bay leaf

4 green cardamoms

4 to 6 cloves or lavang

1 Cinnamon stick

1 chakri phool

¾ tsp caraway seeds

1 strand mace

Other ingredients
2 cups basmati rice

2 tbsp. ghee or Oil

1 large onion sliced thin

½ cup mint

1 green chili chopped

4 tbsps curd

¼ to ½ tsp. red chili powder 

1 tsp biryani masala powder 

¼ tsp Salt to add to chicken

3 cups water or coconut milk 

¾ tsp salt to sprinkle in water

2 tbsps fried onions

How To
First of all, take a mixing bowl, and add the chicken in it. Then

 

add curd in it.
Check out our Shri and Sam's German Mixing Bowl for convenience. Click Here To Buy It.


After that add ginger garlic paste, biryani powder, salt, turmeric and red chili in it.


Mix everything properly and marinate the chicken. Keep aside for approximately 50-60 minutes. You can also keep it in fridge overnight for more taste.
Mixing tools are an important part of your kitchen. Check out Shri and Sam's Ultimate Series Kitchen Tools. Click Here!


Now take a large bowl and add rice in it and then wash it twice. Keep them in water for about 30 minutes and then drain them.
Drain your rice in this Shri and Sam's Kitchen Food Strainer. Click Here To Check It Out.


Now take a pressure cooker and start by adding ghee or oil in it. Then start heating it on low flame.
Check Out Shri and Sam's Exclusive Range of Pressure Cookers.
Click here to check out Signum Pressure Cooker

Click Here to Check Out Opus Pressure Cooker


Add spices in the pressure cooker and sauté them for a minute or two.


Then add onions to this mix. Sauté them until they turn brown.


Now add the marinated chicken in it and sauté on medium flame for about 5-6 minutes.


Now lower the flame and cover the pressure cooker until it is cooked.


Now check after 25-35 minutes, if the chicken is soft and dry.


Now check the salt and add accordingly. Now add 4 tbs curd in it. Then add chili powder, green chili, biryani powder and mint.


Now mix everything thoroughly.


Now take the rice and spread on the chicken in the pressure cooker. Then add either 3 small cups of water or coconut milk in it, also add some salt in it now.


Now taste the water, it should be a little salty, then add 2 small cups of water to it.


Now add some pudina and fried onions in it.


Now taste and add salt if needed.


Now cover the cooker and cook till 1 whistle on medium flame.


Now, open the pressure cooker, you will see that your biryani is ready to be served.


Biryani can either served with a biryani curry or with just green chutney and some onions or it can also be served with vegetable yogurt.
Check Out our Marina Serving Bowl Set to serve this delicious biryani. Click here to check it out!


Recipes
    Course: Dessert  Prep Time: 15 minutes  Cook Time: 40 minutes  Total Time: 50-60 minutes  Servings 4-6 people   Ingredients 125 g butter 3/4 cup caster sugar (very fine sugar) 1 tsp vani...
Read more
Recipes
Course: Indian Main Course  Prep Time: 15 minutes  Cook Time: 30-35 minutes  Total Time: 45-50 minutes  Servings 3-4 people   Ingredients  50 gram paneer 100 ml Ghee or olive oil 20 gram makhana ...
Read more