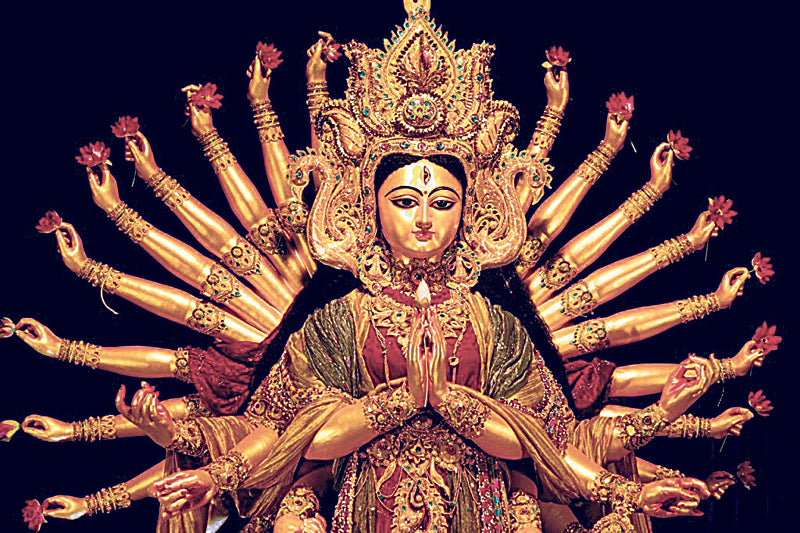 All Things To Know: Kanjak or Ashtami
What is Kanjak

Eighth day of Navratri, also called Ashtami is celebrated as Kanjak Puja. In India this is a very crucial part of the navratri. This festival is all about worshipping little girls to celebrate womanhood. Little girls are dressed as Devis and are also worshipped like a goddess. According to the ritual nine girls should be invited to the house and the head of the family has to wash their feet and feed them with traditional food of halwa, puri and chole, after that give them gifts. This ritual is carried outing a lot of states in our country; majorly North India and East India.


Where did it come from
Kanjak is the festival marked to celebrate Goddess Mahakali. It is believed that when she killed a demon named, Kalasura , he started troubling the earth and the heaven, no one was able to defeat him. So, in order to stop him, all the other gods approached Goddess Mahakali, who at that time was born as Maa Durga. So she being a little girl went to kalasura and defeated him as he let his guard down thinking a little girl won't cause any harm.
Another theory apart from this also claims that a kanya( little girl) is worshipped because she is at her purest form or the most auspicious form.
Important Recipes For Kanjak
Kanjak requires recipe of three major things which is Chole, Puri and Halwa.
Chole or Black Channa

Ingredients: -  1 cup black channa, 1 teaspoon jeera, 1 teaspoon chillies, 1 teaspoon coriander powder, half teaspoon turmeric, salt (according to taste)

Method:
Wash and soak the channa in a large mixing bowl overnight.

Buy Shri and Sam Anti Skid Stainless Steel Mixing Bowl


Take a pressure cooker, and boil the channa in it. Also add salt to it.


Stainless Steel Pressure Cooker. Buy Now!


Now take a frying pan and pour some ghee in it and then let it warm. Then pour the coriander powder, chills powder and jeera in it. Once the dry masala is made, then pour chole in it too. Let it cook for ten minutes and let the water soak out.


Linocut Triply Cookware: Frying Pan
4.   Navratri special chole are ready to be served.


Poori or Puri
Ingredients: -  250 grams whole wheat flour, 30 ml oil, Salt, Oil for deep frying
Method:
Take a large mixing bowl and mix all the ingredients in one.

While you do this, take a deep frying pan or kadhai (kadai) and pour oil in it then put it on medium flame, let it warm.


Non-Stick 6 Layers Kadhai.Buy Now!



Start kneading the mix in the mixing bowl. Do it for about 20-30 minutes.

The dough is ready, make different round pieces of dough according to the required size of poori.

Roll out the dough pieces one by one on a rolling board using the pin and then fry them one by one.
Take them out once they are brownish.


Sooji Halwa
Ingredients: - one cup sooji, four cups water, half cup ghee, one fourth teaspoon cardamom powder, one teaspoon mashed almonds.
Method:
Take a large sauce pan and put the ghee in it and put it on medium flame. Then pour all shoji in it and keep on medium flame, keep staring it.


Stainless Steel Sauce Pan



While this happens, take another sauce pan and pour the sugar and the water in it, then put this on low flame.

Now pour the sugar mix in the sooji pan.

Keep stirring, until the halwa is browned.

Then garnish it with almonds.

Required things for Kanjak Rituals
A lota to keep water to wash the feet of all the nine girls.

Thali sets to serve the girls the food in.

 
Get these Stainless Steel stylish Thali Sets at Exclusive Prices!



Pooja thali set to do the pooka and put the teak on the forehead.

Gifts to give to the girls.
In the modern day,  Kanjak is celebrated to ensure women empowerment and equal right for women. This shall carry on generations after generations to celebrate womanhood.