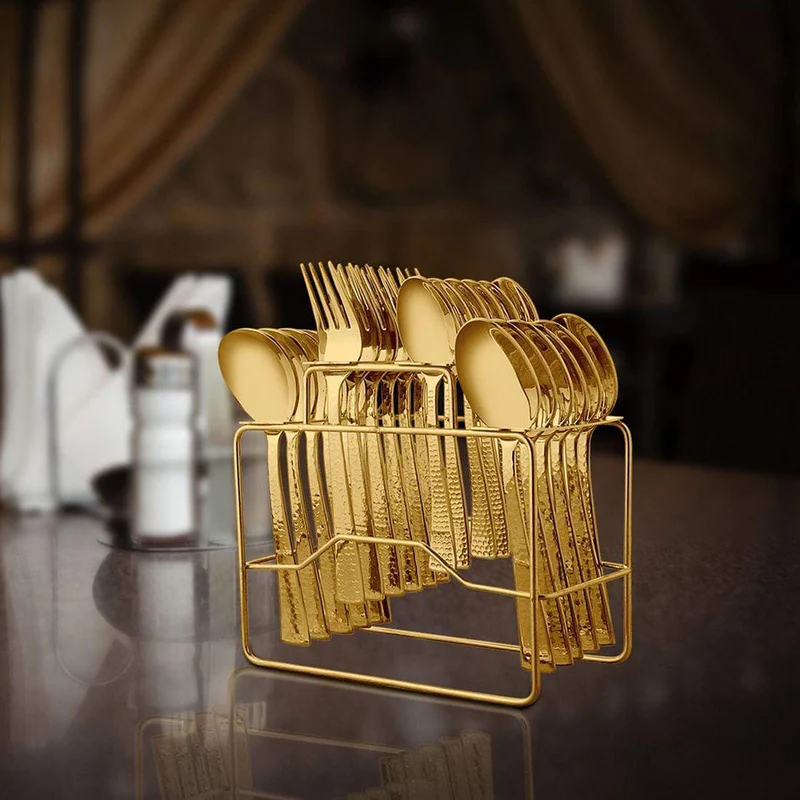 Different Cutlery Set with Stand!
Do you want to know about the different types of cutlery sets? Do you want to enhance the appearance of your dining table? If yes, then you must know about the best and different cutlery sets via this article as we all know how the importance of varying cutlery sets is required in a well innovative kitchen. We need forks and spoons throughout the day to add ingredients to the kadhai while cooking the food. Cutlery sets play an essential role in every kitchen setup. This is why we found for you some sturdy cutlery set that will not only create an excellent addition to your kitchen but also be helpful and adds some beauty to your dining table setup.
Top Cutlery Sets with Stand are:
1. Shri and Sam Cutlery Set
Shri & Sam's offers you an exquisite choice of cutlery sets if you are planning to buy for your house or cutlery company. It consists of the 24 pcs stainless steel set of knife, spoon, fork, and the desert spoon combined with the mixed metal handle. It is available at various reasonable rates. It is highly recommended to buy the cutlery sets from the best brand, Shri and Sam's, at affordable rates.
Stainless Steel 24 PCS Cutlery Set with Stand Impress Hammered
2. Amazon Solimo Cutlery Set
The amazon solimo cutlery set is made up of 100% food-grade material. It offers a combo cutlery set with 24 stainless steel spoons of different types and sizes. Under this kind of cutlery set, all the spoons provide high durability, making them better for everyday use. 
3. Parage Miracle Cutlery Set
The parage Miracle cutlery set offers products that are made up of 100% food-grade material. This cutlery set ranges from teaspoons to dinner spoons and dessert spoons. In simple words, we can say that the parage miracle cutlery set is considered one of the sound sets that can help meet all your everyday needs.
4. Likeware Cutlery Trendy Set
If you are looking for unique cutlery set to make the whole setup of your dining table, then you must buy the like ware cutlery trendy set. This modern cutlery set comes On the market in pink color grip and stainless steel body that also makes the excellent appearance of the spoons while set up on the dining table in front of your relatives. Along with the quality and exclusive features, it best fits your budget. 
5. FnS Imperio Gold Plated Cutlery Set
The Imperio Gold plated cutlery set enhances your kitchen decoration. This gold-plated cutlery set is made up of stainless steel set. They are stylish cutlery sets that are also used for gifting to someone on special traditional occasions and events.  
6. Lucky Box Cutlery Set
The luxury box cutlery set offers a super creative, sturdy, and robust collection. It comes with the features of four different sizes of spoons that are made up of stainless steel. It also has a stand that helps you keep all the forks and spoons in one place. 
Conclusion
In this article, we tell you about the different cutlery sets of the best brands, but Shri & Sam's is considered the best brand to buy the cutlery set with the stand. If you want to buy the cutlery set with the frame at an affordable price and without wasting your time exploring, then Shri and Sam's is the best options.
Check Out Exclusive Range Of Cutlery: https://shriandsam.com/collections/cutlery