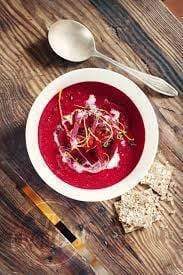 Coconut and Beetroot Soup
Recipe Servings: 2
Prep Time: 10 Minutes
Cook Time: 30 Minutes
Total Cook Time: 40 Minutes
Difficulty Level: Easy


A creamy yet spicy combination makes this soup recipe a must try at home. Easy, quick, delicious and healthy, this mix of coconut with beetroot is luring us into cooking it right now!
Ingredients

2 Finely chopped Beetroots

1 Small chopped Onion

Ginger (approx. 2 gram)

1 Green chili

Salt and Pepper( according to taste)

2 Tbsp Coconut oil

100 Ml Coconut milk

10 Ml Coconut cream


How to
1. Start by peeling and chopping the beetroot, followed by chili, ginger and onion.


Ultimate Peeler Kitchen Tool                             Super Chopper

2. Now take a pan and add some coconut oil in it. Put it on medium flame, then add onions, green chilies, beetroot and ginger to it. Then sauté it properly.


Wisdom Sauce Pan and Fry Pan


3. Then add water to the pan and bring it to boil, then bring it back to sim and keep it like that for an hour.

4. Then take the mix out of the pan and puree it, once that is done put it back in the pan and back on low flame.


Sauce Pan

5. Then add some coconut milk in it and add all the seasoning.

6. Then take it off the flame, and serve hot. You can top it off with coconut cream.
Recipes
Prep: - 15 m Cook: - 50 m Ready In: - 1 h 5 m     Ingredients 3/4 cup white sugar 3 tablespoons cornstarch 1/4 teaspoon salt 1/2 teaspoon ground cinnamon 4 cups fresh bl...
Read more
Recipes
Oatmeal Cookies have been around since the 1800s and then slowly by the 1900s it became really famous. These are considered healthy because they are excellent  source of iron and fiber.Oatmeal Cook...
Read more